AIREX pilates and yoga training mat
Sport-Tiedje Expert Review
Product details: AIREX pilates and yoga training mat
Optimum dampening
Size: 190 x 60 x 0.8cm
Weight: 1.4kg
---
Description: AIREX pilates and yoga training mat
The new AIREX pilates and yoga training mat has especially been developed for pilates and yoga. The choice of the optimal base is decisive for fun with active movement. The high-quality AIREX pilates and yoga training mat is characterized by optimal absorption and high durability. AIREX training mats ensure comfort, optimal protection, and an exact controllable movement process in each situation They are non-slip and adjust to each underground withouth problems. Thereby, safety is also considered.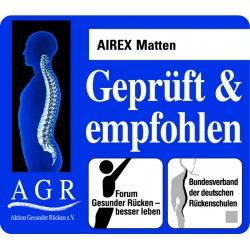 ---
Warranty conditions: AIREX pilates and yoga training mat
The guarantee is valid in terms of the general statutory provisions for the end user.
---
AIREX pilates and yoga training mat Test & Evaluations
4.56 of 5 Stars
(9 Customer ratings)
Sport-Tiedje Expert Review
---
Write a product rating now and win a gift coupon of 500 € or the refund of the paid purchase price. The choice is yours!
---
---
Sport-Tiedje puts each fitness equipment through its paces. Then our team of sports scientists, serious athletes, and service technicians of many years of experience evaluate the products of different categories. Compare easily the products using the Sport-Tiedje expert review and find your appropriate equipment.