Berg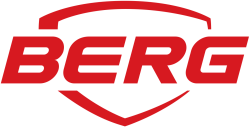 Berg – Let's play outside!
Berg - All categories in an overview (10)
Berg stands for absolute top quality so that children can enjoy their play equipment for many years. That is why Berg itself sets strict quality requirements and checks the quality of its go-karts and trampolines under extreme conditions in its own test facilities. In addition, Berg products are tested by independent testing institutes – and, of course, by children themselves.


The vision of Berg
Children are the future, we have merely borrowed the world from future generations – from that vision, Berg contributes to the healthy development of our children. Berg's sustainable play equipment gives children the freedom to experience their creativity through play. On the trampolines and go-karts, children can be active in the fresh air with a whole lot of fun That is because Berg is convinced that active collective play promotes the positive development of children.
The special commitment of Berg
When children actively play with each other, they develop their physical, mental, and social skills. But in some regions, play equipment is a real luxury, and food and education are not a matter of course. Under the motto "Every child deserves a BERG", the company is committed to the positive development of children around the world. With play equipment and financial contributions, Berg supports the construction of playgrounds and school buildings in highly disadvantaged regions. Berg therefore offers many children the opportunity to creatively and actively play with each other.
Things to know about Berg
Berg has grown from a small Dutch manufacturer and supplier of pedal go-karts and trampolines to a globally leading manufacturer of trampolines and go-karts in 29 years. It all started in a shed on his parents' farm, where Henk van den Berg spent his holidays making his first go-kart – Berg was born. Today, Berg is active in over 56 countries and is committed to sustainable production with respect for the environment. As a pioneer of innovation around technology, safety, quality, and design, Berg works every day to renew and improve its products.