cardiostrong rowing machine Baltic Rower
Sport-Tiedje Expert Review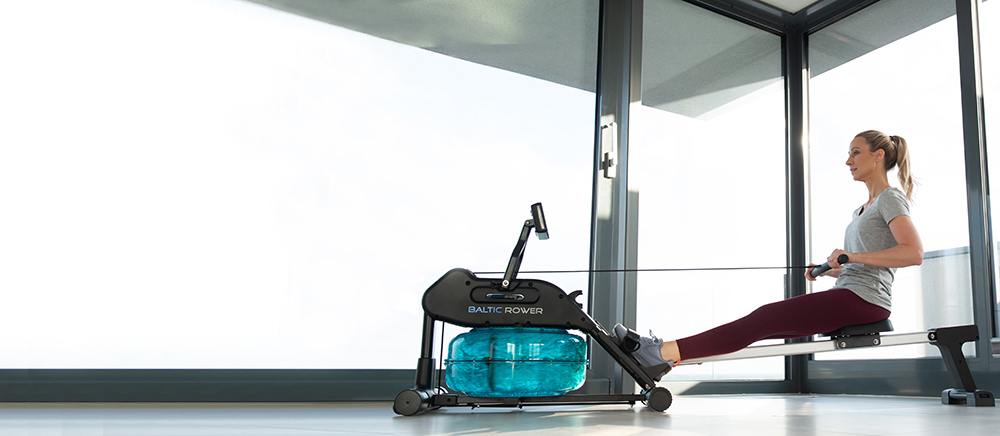 cardiostrong Baltic Rower
A reliable rowing machine with natural water resistance
Comprehensive fitness training


An effective total body training machine for strength and stamina

Modern design


Blue coloured water tank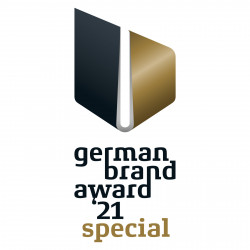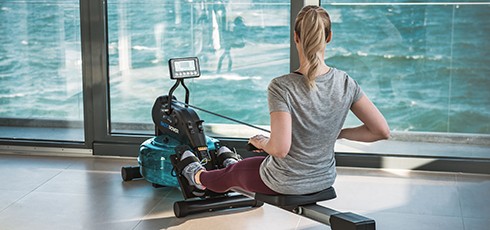 Rowing like on water
Experience a rowing experience, just like you were rowing on the water, with the natural water resistance. With every stroke you move the blades through the water tank. You alone control the intensity with the power of each stroke. This way the resistance can be adjusted at all times during training.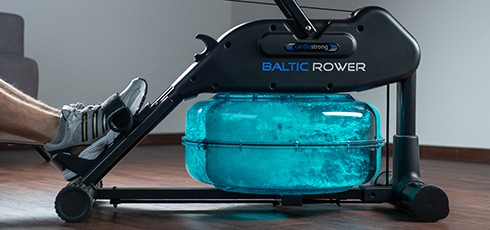 Stability meets design
The Baltic Rower combines high quality materials with a modern colour concept. The metal frame gives the rowing machine great stability. The optical highlight is the blue water tank, which produces a beautiful effect. A real eye-catcher in your home.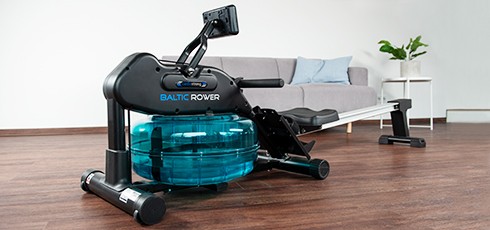 Fantastic quality to price ratio
Would you like the joy of a rowing machine with water resistance, but not the price of an expensive wooden model? With the Baltic Rower you get a water rowing machine with the perfect quality to price ratio while still getting great comfort and stable workmanship.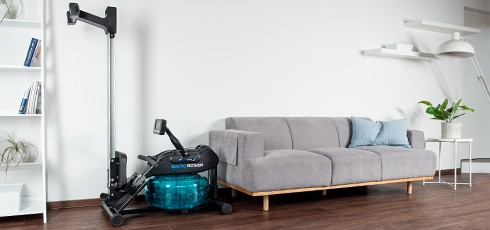 Made for rowing at home
Fast assembly, user-friendly console and folding function: The Baltic Rower knows exactly what home training is all about. The seat rolls almost completely silent over the rails. The rowing machine is very easy to use and is therefore swiftly ready to use and can be stored space-savingly away after your workout.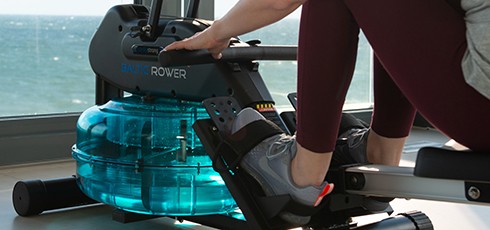 Joint-friendly course of movement
The three bladed paddle in the water tank is constructed so that the resistance is constant throughout the whole stroke. This constant resistance, without any jolts, offers a very comfortable, flowing stroke movement and is exceptionally joint-friendly.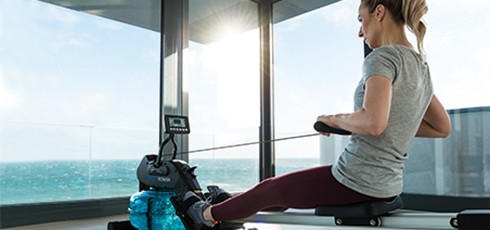 The compact total body trainer
Many positive training effects from only one exercise machine: When you work-out on the Baltic Rower you use over 85% of the muscles while also improving your cardio level. The total body workout is extremely effective, saves time and balances out a low movement day at the office.
---
Product details: cardiostrong rowing machine Baltic Rower
Stable water rowing machine for starting the training and for improving your fitness
Smooth rail – you only here the rushing of water while exercising
After the training it can be space-efficiently folded and thanks to the transport wheels it can be moved
Comfortable pulling without "dead point"
Determine the resistance by the power and the speed of the stroke
Excellent whole body training equipment for losing weight and for improving the general fitness
Nice design with blue coloured water tank - any additional water colour is not required
Very big display with all important training data
Race programme for testing your fitness
Quick and easy assembly
Recommended for users of a maximum height of 195 cm
Max. user-weight: 110 kg
Dimensions set-up - cardiostrong rowing machine Baltic Rower : (L) 216 cm x (W) 51 cm x (H) 78 cm
Folded - cardiostrong rowing machine Baltic Rower : (L) 115 cm x (W) 51 cm x (H) 148 cm
---
Description: cardiostrong rowing machine Baltic Rower
cardiostrong Baltic Rower – natural rowing feeling and a comfortable stroke motion
Just imagine that you are rowing in the free and untouched nature and you only hear sound of rushing water. With the Baltic Rower from cardiostrong you can bring this experience home, no matter what time of the year or weather conditions. The Baltic Mare Balticum with it's gorgeous rowing routes, inspired the makers of the Baltic Rower to the name and to complete the natural rowing feeling, the rowing machine is equipped with a water resistance system.

With the Baltic Rower you control the intensity of your training through your own strength: the faster and more powerful your stroke, the harder your workout will become. This is especially advantageous for beginners, since the intensity will suit your own fitness level which in turn minimises the chance of overstressing. You started with a high intensity, but would like to relax your training a bit? No problem: just use less power with your stroke and the intensity lowers without having to do any changes on the console. Water resistance offers quick and easy changes between different intensity levels, for example to complete a HIIT session.

When the Baltic Rower was designed, special care was put into the blades in the tank. They are constructed there is no "dead point" during your stroke. This produces a comfortable, joint-friendly motion and an effective workout, where the resistance is felt through the whole stroke.
A comprehensive power and cardio workout
Increase your fitness level with the cardiostrong Baltic Rower! Rowing is an effective full body workout, where you profit from numerous positive training effects: you increase your strength, mobility and performance level, you also improve your posture and strengthen your cardiovascular system. The Baltic Rower brings you a step closer to your fitness goal with every row. On your way there you can set new challenges by varying the duration and intensity of your training. From long cardio sessions to short, intensive workouts.
Quiet, space-saving and smart design - perfect for rowing training at home
Rowing machines for home use should not only be effective and comfortable, but also silent and easy to use. The design also plays a key role, as the rowing machine should look good in your home and suit your interior style. The Baltic Rower has a seat with ball bearing wheels that roll silently and comfortably back and forth over the rails. This way you can listen to your favourite workout playlist or watch the newest episode of your favourite series while you work-out.

The Baltic Rower gets its modern design from its blue watertank. Due to this you won't have to mix the water with special water colouring. The metal frame of the Baltic Rower also adds to its modern look and, at the same time, is especially stable. The rails are slimmer than on many other similar models. This results in the distance between the foot rests also being smaller, which makes rowing much more comfortable. To hold your feet safely, comfortably and allowing you to perform the rowing movement efficiently, the foot rests are adjustable in size.

The Baltic rower is delivered pre-assembled and is built up in only a few steps, so that you can begin with your first rowing session straight away. Additionally the long rails can be simply folded up. In combination with the transport wheels you can store the rower away after training to save space.
Freedom of training and huge motivation kick
With the Baltic Rower you can shape your rowing workout any way you like. To this end, there are a number of different options in the training computer. With the manual program you can set yourself different goals such as distance, time, strokes, calories or pulse. If you like challenges you can compete against the computer: you set a challenge time for a set distance and try to beat that time - which offers extra fun and motivation during training. The Baltic Rower also has a heart rate receiver built in. In a combination with a chest strap, it can show you your pulse on the display. This way your training can be optimally set in accordance to your goals and age. With heart rate monitoring you can also use the recovery program, where your heart rate recovery rate is measured after your workout.

The training computer is very user-friendly. The large display makes the training data is easily readable. So that you are always in the know on how your workout is going.

Have fun with your new total body workout trainer: the water rowing machine Baltic Rower from cardiostrong!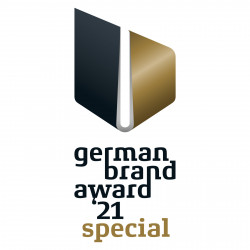 ---
Warranty conditions: cardiostrong rowing machine Baltic Rower
For further information on the warranty, please refer to the manufacturer's terms of warranty. The manufacturer's warranty is an extra service and does not affect your statutory rights.
| Manufacturer's warranty | Full warranty |
| --- | --- |
| Home use | 2 years |
---
cardiostrong rowing machine Baltic Rower Test & Evaluations
4.77 of 5 Stars
(177 Customer ratings)
Sport-Tiedje Expert Review
---
Write a product rating now and win a gift coupon of 500 € or the refund of the paid purchase price. The choice is yours!
---
---
cardiostrong rowing machine Baltic Rower Accessories
---
Sport-Tiedje puts each fitness equipment through its paces. Then our team of sports scientists, serious athletes, and service technicians of many years of experience evaluate the products of different categories. Compare easily the products using the Sport-Tiedje expert review and find your appropriate equipment.