cardiostrong Treadmill TX90
Sport-Tiedje Expert Review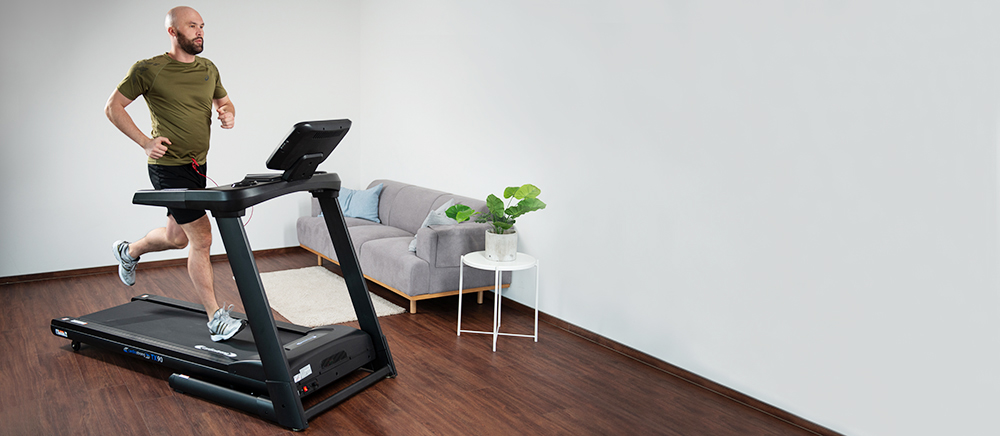 cardiostrong TX90 treadmill
Comfortable treadmill for home training
Comfortable running experience

Even shock absorption, large running surface and powerful motor

Individual treadmill training

A huge variety of programmes and great entertainment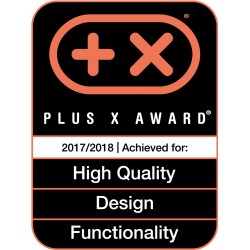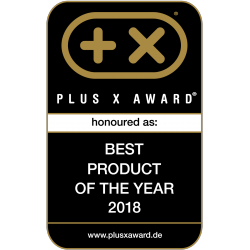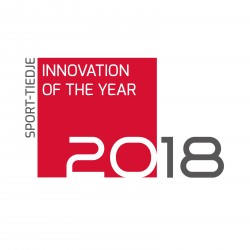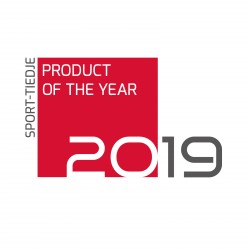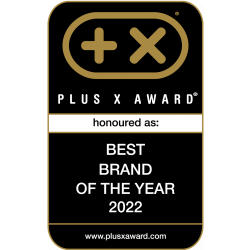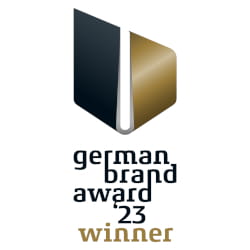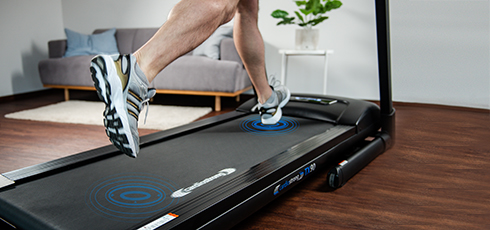 Joint-friendly treadmill training
One of the many advantages of the treadmill is that there is hardly any strain on your joints, tendons and ligaments. With the cardiostrong TX90, this is thanks to the shock absorption elements underneath the deck and the 2.5 mm thick running mat. In combination with the large running surface, this results in a great running experience!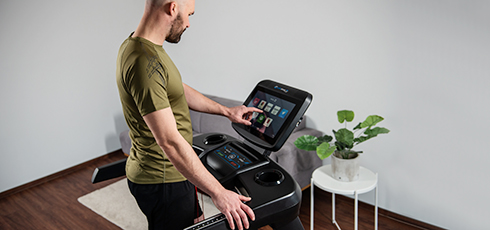 Touch console with lots of entertainment possibilities
The TX90 not only looks sporty, its features are also very impressive: the 15.6-inch touchscreen console hosts pre-installed streaming and social media apps such as Netflix, Spotify, Amazon, YouTube, Twitter, Chrome, Instagram and Facebook – functions that are usually seen on treadmills in fitness studios.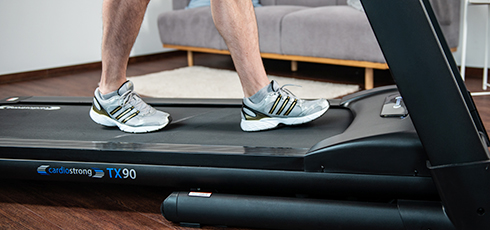 Design your workout to suit you
Walking, slow jogging or sprinting: design varied running sessions from 44 training programmes! You can design your own programme and even run with an incline. With speeds between 1 and 20 km/h, you can do slow movement training or a fast sprint.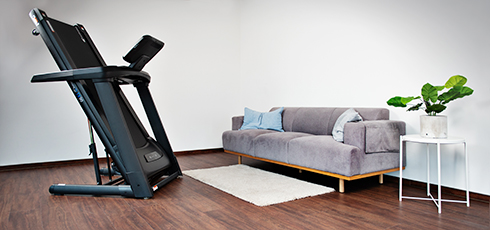 Practical folding function
A treadmill with a folding function is the ideal solution for home training. Finished your workout? Then simply fold up the TX90's long running surface. Then, using the castors, the treadmill can be pushed aside to save space and is ready for the next training session in no time.
---
Product details: cardiostrong Treadmill TX90
Watch videos, surf the internet or listen to music while you train!
High running comfort due to the strong motor and large running surface
Large touch screen display (15 inches): numerous streaming apps - Netflix, Spotify, Amazon, etc.
Wide range of training programs and many displaying options of the training values
Bluetooth® function for pairing Bluetooth® headphones or speakers
Pre-installed apps: Netflix, Spotify, Amazon, youtube, Twitter, Chrome, Instagram and Facebook
Integrated video and music player for offline use
Integrated web browser for internet surfing while exercising (WiFi connection)
Target oriented training: 3 Programs (Distance, Calories, Time)
Low rear access height of 22.5 cm
Well equipped: loudspeakers, fan, USB port
Display size: 34.2cm x 19.5cm
Changeable viewing angle for the display
Easy assembly, done in just 3 steps.
Remarkable program variety: e.g. 32 preset programs, user programs, target oritented or heart rate based programs (60% or 80% from your max. heart rate or target heart rate)
Motor with a continuous output of 3.5HP | Max. output of 5.5HP
Max. user weight: 160 kg
Dimensions set-up - cardiostrong Treadmill TX90: (L) 205 cm x (W) 90 cm x (H) 145 cm
Folded - cardiostrong Treadmill TX90: (L) 128 cm x (W) 90 cm x (H) 174 cm
Technical information:

DC-Motor: HP - continuous duty 3.5 HP
Running surface: 152 x 52 cm

Belt

: 2.5 mm

Running deck

: 18 mm

,

guide rollers

: 60 mm
speed: 1 - 20 km/h (

adjustable in increments starting from

0.1 km/h)
incline: 0 - 15 % (

adjustable in increments starting from

1 %)

Computer:

Display:

duration,

distance,

speed

,

incline

,

calories,

heart rate

Display of exercise profiles via TFT
Exercise programs in total: 44, of which custom: 4, heart rate controlled: 3
8

speed hot keys

8

incline hot keys

Features:

Heart rate measurement:

hand pulse sensors

, chest strap (sold separately)
Chest strap for telemetric heart rate measurement sold separately

HRS control: adjustment of the

speed

and

incline

on the handrails

Extras: transport wheels, foldable
---
Description: cardiostrong Treadmill TX90
cardiostrong TX90 with extensive amenities
The cardiostrong Treadmill TX90 offers many well-known and innovative features that have never existed in such a combination before. Highlights include the 15.6-inch touchscreen console, a feature usually only found on studio equipment. Streaming apps such as Netflix or Spotify are pre-installed on the console. The TX90 also features an impressively large running surface and a very powerful motor.
Huge touchscreen display with great programmes and lots of entertainment
Let entertainment take your mind off the effort
Thanks to the excellent display, you can play films or music on the cardiostrong Treadmill TX90. You have two options available to you. Make it a classic: drag the film or album onto a USB stick and connect it to the treadmill. Now you can select and play the files in the media player. Or you can stream it over WiFi. YouTube, Netflix and Spotify streaming apps come pre-installed. So you can be entertained as you train: watch your favourite films or let your favourite music motivate you.

The TX90 is your social media centre
In addition to the entertainment apps, social media apps Twitter, Facebook and Instagram are also pre-installed. Get news on Twitter, show off your great running results on Facebook or take a look at beach pictures on Instagram – that will certainly motivate you to burn a few more grams of fat on the TX90.

A wide range of programmes that let you train the way you want to
You can train exactly how you want to on the cardiostrong Treadmill TX90. A wide variety of programmes are available to you. For example, you can set goals (calories, distance or time) or choose from one of the 32 pre-installed programmes. These differ in terms of duration and training profile, i.e. the incline and speed are varied.

You can also create your own programme in which you define the incline and speed for each section beforehand. You can also change these two values at any time during the workout, which is particularly easy thanks to the touchscreen. You can of course also use the quick selection buttons: choose from 8 quick selection buttons for speed and incline. That makes the cardiostrong Treadmill TX90 the ideal fitness device for interval training. For example, you can do a one-minute sprint at 14 km/h and then actively recover at 8 km/h – until you dare to do another sprint.
The TX90 offers the highest training comfort
The TX90 has a 3.5 HP motor that drives the treadmill quietly and very evenly. This enables top speeds of up to 20 km/h. So that you can take full advantage of these speeds, the TX90 is equipped with a particularly large running surface: 155 x 52 cm. The TX90 is in the same league as treadmills for the semi-professional sector. Thanks to the incline motor, the treadmill can be adjusted up to an incline of 15%. Demanding mountain runs are also possible at home.

Thanks to its excellent shock absorption, the cardiostrong Treadmill TX90 offers a workout that is easy on the joints. In addition to the shock absorption elements underneath the deck is a thick running mat that also absorbs impacts. This is 2.5 mm thick and contributes to a pleasant running experience.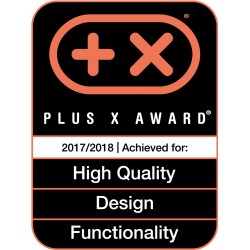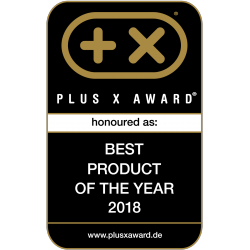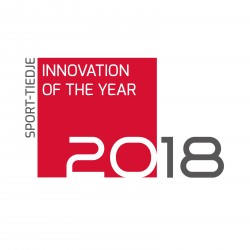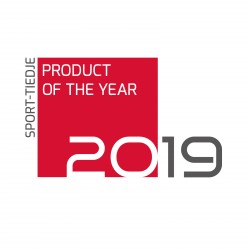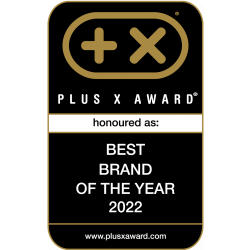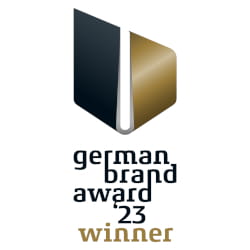 ---
Warranty conditions: cardiostrong Treadmill TX90
For further information on the warranty, please refer to the manufacturer's terms of warranty. The manufacturer's warranty is an extra service and does not affect your statutory rights.
| Manufacturer's warranty | Full warranty |
| --- | --- |
| Home use | 24 months |
| Semiprofessional use | 12 months |
---
cardiostrong Treadmill TX90 Test & Evaluations
4.9 of 5 Stars
(20 Customer ratings)
Sport-Tiedje Expert Review
---
---
---
cardiostrong Treadmill TX90 Accessories
Out of stock
Back in stock approximately CW 13
(25/03/24 - 29/03/24)
---
Bestsellers of the last 30 days from the category Treadmill
---
Sport-Tiedje puts each fitness equipment through its paces. Then our team of sports scientists, serious athletes, and service technicians of many years of experience evaluate the products of different categories. Compare easily the products using the Sport-Tiedje expert review and find your appropriate equipment.