Darwin Treadmill TM30
Sport-Tiedje Expert Review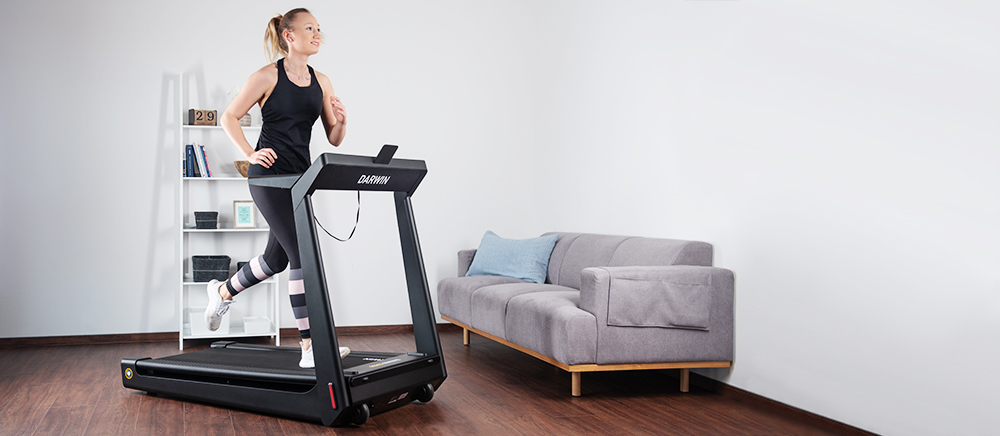 Darwin Treadmill TM30
Treadmill training on another level!
Inspired by nature

Clever suspension: joint-friendly just like running through the forrest

Fold it flat!

Innovative, extermely space-saving folding mechanism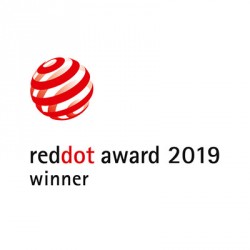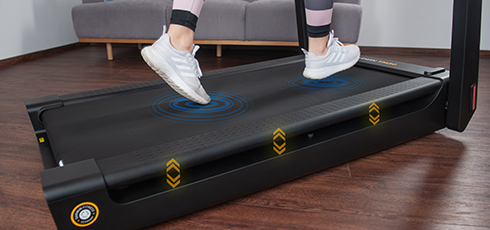 Inspired by nature: the suspension system
The TM30 is equipped with an exceptionally good suspension system. The hinged running deck is made from a more flexible material compared to conventional treadmills. Through this the running deck catches the energy of the step and rebounds a part of it back onto the runner. This makes runnning more efficient and is much more joint-friendly!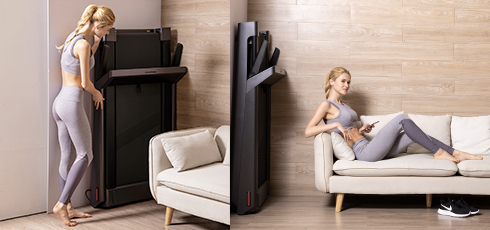 Innovative thinking: the folding mechanism
The Darwin Treadmill is built with an innovative folding mechanism: Just fold up the hand-rails to relase the frame lock. This enables you to fold the whole upper frame onto the running deck. While folded the treadmill is just 31cm high. Even better, you can store the TM30 flat on the ground or stand it upright. So, for example, you can roll it under the bed or stand it up next to the wall.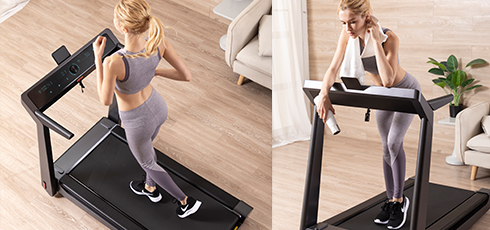 Realistic running experience for more results
The compact treadmill has a set incline of 4%. This is set to approximately simulate running outside on a light incline. The inclince doesn't only make running more realistic but also produces an ergonomically better hip position.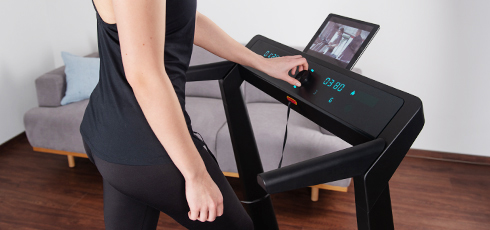 Easy to use and sleek console
The display of the TM30 almost completely uses up the whole space of the console. The LCD screen is clear to read and has a modern clean design. The knob in the middle is used to control all functions. There are also 3 hot keys for speed as well as 3 pre-set programs available.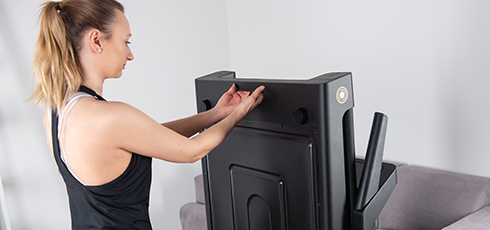 Small extras that makes training better
The TM30 is also built with numerous small extras that are designed to make training more diversified and just better. For example you can watch a movie on your tablet while you are training. A practical grip on the underside makes it easier to lift up the treadmill and so that you can easily move the treamill, the TM30 is equipped with 2 pairs of transport wheels. 2 large wheels to move the treadmill around and 2 small wheels to roll the treadmill sideways while vertical.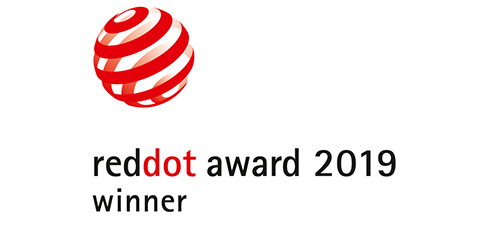 Winner of the red-dot Design Awards 2019
The treadmill TM30 was awarded in 2019 with the red-dot Design Award. The reasoning from the jury being: "The treadmill TM30 characterised with a well conceptualised running deck, produces good cushioning while providing an authentic running experience"
---
Product details: Darwin Treadmill TM30
Quick starter: The Darwin Treadmill TM30 comes fully assembled and is ready to go in less than 10min, including unpacking!
An eye-catcher: The TM30 has a very clean, straight design with a large LCD screen and a sleek matt black frame.
Inspired by nature: The hinged, flexible running deck offers perfect cushioning and produces a wonderfully authentic and natural running experience.
Another level of thinking: The intelligent folding mechanism makes it possible to store the treadmill away using up minimal space. It can be stored under the bed or couch or even stood up next to the wall.
Start with just a twist of the wrist: Control everything over the large central knob. Additionally you can make quick changes in speed with hot key buttons.
Portable: The Darwin TM30 is equipped with two pairs of transport wheels. Two large wheels to help with moving the folded treadmill and two small wheels to roll the treadmill sidewards while it's vertical.
Easy and effective – the TM30 has 4 programs: One manual, in which the speed can be changed at any time. One HIIT program, one fat burn program and one walking program.
Never get bored while training again! The Darwin Treadmill TM30 has an integrated tablet holder, enabling you to watch your favourite movie/series while training.
Safety first: The Darwin Treadmill TM30 is equipped with an emergency chip keeping you safe and secure.
Motor with a continuous output of 1.5HP | Max. output of 2.5HP
Max. user weight: 110 kg
Dimensions set-up - Darwin Treadmill TM30: (L) 142 cm x (W) 83 cm x (H) 114 cm
Folded - Darwin Treadmill TM30: (L) 142 cm x (W) 83 cm x (H) 31 cm
Technical information:

DC-Motor: HP - continuous duty 1.5 HP
Running surface: 120 x 48 cm

Belt

: 1.8 mm
speed: 0.8 - 15 km/h (

adjustable in increments starting from

0.1 km/h)

Computer:

Display:

duration,

distance,

speed

,

calories,

Display of exercise profiles via LCD (extra large)
Exercise programs in total: 4
3

speed hot keys

0

incline hot keys

Features:

Extras: transport wheels, foldable
---
Description: Darwin Treadmill TM30
The treadmill TM30 is equipped with a hinged step board that has special elastic properties that works as a cushioning effect under the running area. The higher suspension rate offers sufficient flexibility. The weight of the user is caught and cushioned, also reducing noise, thus providing a comfortable running experience. The simple foldable treadmill has a set incline of 4%, so a light incline outside is well simulated.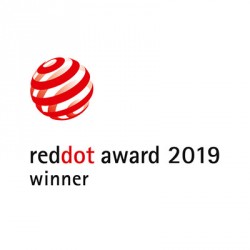 ---
Warranty conditions: Darwin Treadmill TM30
For further information on the warranty, please refer to the manufacturer's terms of warranty. The manufacturer's warranty is an extra service and does not affect your statutory rights.
| Manufacturer's warranty | Full warranty |
| --- | --- |
| Home use | 24 months |
---
Darwin Treadmill TM30 Test & Evaluations
4.88 of 5 Stars
(16 Customer ratings)
Sport-Tiedje Expert Review
---
---
---
Darwin Treadmill TM30 Accessories

---
Bestsellers of the last 30 days from the category Treadmill
---
Sport-Tiedje puts each fitness equipment through its paces. Then our team of sports scientists, serious athletes, and service technicians of many years of experience evaluate the products of different categories. Compare easily the products using the Sport-Tiedje expert review and find your appropriate equipment.