Etan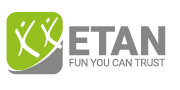 Etan - All categories in an overview (3)
The range of Etan includes many high-quality machines to increase fitness and well-being. Besides equipment of the Etan Trampoline, there is also wide-range accessory available. Have a lot of fun exercising with Etan.

The basketball hoops of Etan offer you the possibility to move a hoop stand flexibly and quickly. The mobile hoop stands can be placed and played with on almost every ground. Sturdy feet give a stability and safety and avoid tipping. The hoops are adjustable in height and can be adjusted to tall and small players - to their ideal playing height.

Now Starting from

£125.00

incl. 20% VAT

With the appropriate accessory for your Etan trampolines, you can increase the safety, durability, and fun to play. Suitable safety nets are an absolute recommendation for households with children. An anchor set safes the trampolines when an autumn storm is coming and allows - mainly in combination with a protective cover - to leave the trampolines in the garden even throughout the winter time.