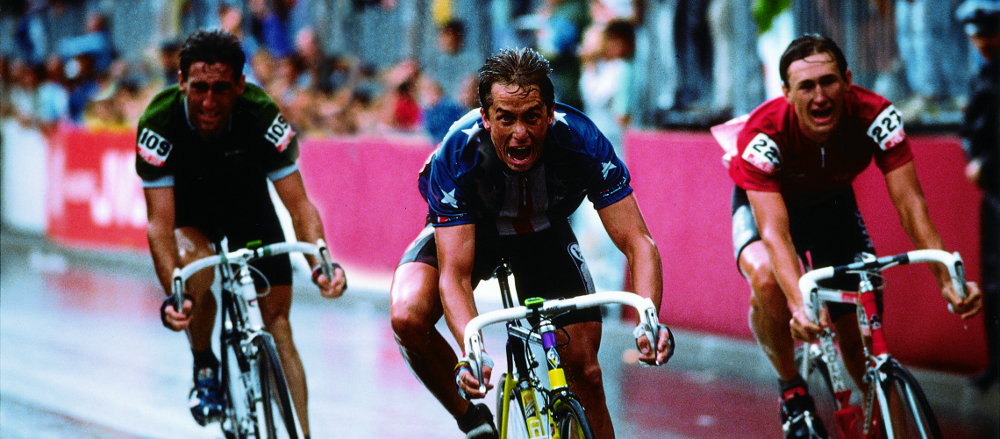 Energy.
Passion.
Understanding.
LeMond commercial fitness equipment: out of passion for the training
The
LeMond commercial cardio equipment
has been developed with the cycling experience and the technical know-how of the former Tour-de-France winner Greg LeMond. His knowledge in cardio training has provided that his fitness equipment meet the sporty requirements of users, the ergonomic requirements of therapists as well as the requirements in price-performance of gym owners.
LeMond commercial indoor cycle
The indoor cycles of LeMond Fitness offer an extremely high stability and hence a very high training comfort. Due to the high stiffness of the x-frame, a perfect power transmission from pedals to flywheel is given. So you can convince even professional cyclists at your gym. The saddle and handlebar position can be individually and precisely adjusted, so that every user finds the perfect position on the LeMond commercial indoor cycle. Due to its high stability and the optimal arrangement of single components, the machines are maintenance-low and have a very long lifespan.
LeMond Indoor Cycle Revmaster Sport

The LeMond Revmaster Sport is equipped with the approved X-frame, which ensures a high stability and durability. Due to the multiple adjustability, users feel quite well with the indoor cycle for commercial and upscale home use!

Big flywheel with 19 kg
Classic friction brake
Infinitely variable saddle and handlebar adjustment
Maintenance-free Kevlar belt drive

LeMond Indoor Cycle Revmaster Pro

The LeMond Indoor Cycle Revmaster Pro convinces equally gym owners and users. Offering a huge balance mass of 21.5 kg, it inspires even professional cyclists by an absolutely smooth concentric run. Comfort is guaranteed by the very precise adjustment of saddle and handlebar. Gym owners are inspired by the extreme stability and very long lifespan of the commercial indoor cycle - even under most intensive conditions of use!

Very big flywheel with 21.5 kg
Infinitely variable saddle and handlebar adjustment
Extremely stable X-frame
SPD-Combi-Pedal system
LeMond commercial exercise bike
The commercial exercise bikes of LeMond inspire users by an optimally adjustable sitting position, by a practical and diversified programme variety, and an easy control. Gym owners appreciate the long lifespan, which provides an excellent price-performance ratio. The G-Force exercise bike series works maintenance-low and is very silent. Offering a very easy use and an enormous range of performance, gym owners and users will be happy to use it.
LeMond Studio-Ergometer G-Force UT

A resistance setting from 30 to 1200 Watt makes the upright biek G-Force a unique exercise bike. It is suitable for the upscale home use, for therapeutic training, and cardio training of professional athletes. Due to its very high stability, loadability, and durability, it is popular at gyms and fitness rooms all over the world!

Generator-driven induction brake
Adjustable from 30 to 1200 Watt
Handlebar adjustable in horizontal and vertical adjustment
13 training programmes incl. pulse and Watt control

LeMond Recumbent Bike G-Force RT

The recumbent bike of LeMond convinces by its range of scope! It offers a resistance of 30 to 1200 Watt. Backrest and saddle can be comfortably adjusted and 13 training programmes provide diversion for the users. Gym owners are inspired by the generator system, because the commercial exercise bike can be set up everywhere. In addition, they appreciate that the G-Force RT is very maintenance-low and that it offers an excellent price-performance ratio!

Generator-driven induction brake
Adjustable from 30 to 1200 Watt
Backrest and saddle are multiple adjustable
13 training programmes incl. pulse and Watt control
Sport-Tiedje Business Solutions: Fitness facilities and fitness gyms from one source
As a result: with LeMond commercial equipment, you inspire your customers and you save your budget thansk to the long durability and the great price-performance ratio. Besides the equipment with LeMond commercial equipment, we offer many more services with our
Business Solutions department
. Since more than 30 years, we have been your reliable and competent partner in eqiupping individual fitness gyms and facilities. The offer does not only include the equipment, but also planning and setting up the gym. Our commercial specialists assist you in finding the perfect equipment for you and your customers and support you in equipping and financing concepts.
Offering 43 service points in Germany and another 27 in Euroep, we are always available with respect to technical or training relating questions. That's how we can offer support even after the purchase! We can assemble and set-up the fitness equipment at your gym and give you the most important tips with respect to care and maintenance. After the assembly, you get instructions how to use your fitness commercial equipment. Afterwards, we are also available regarding any technical or sports-scientific questions. Because, at Sport-Tiedje you get everything from one source!