Life Fitness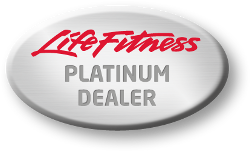 Fitness equipment from the world's leading manufacturer, Life Fitness
Life Fitness - All categories in an overview (12)
Life Fitness is one of the world's leading manufacturers of cardio and strength training equipment for the fitness, health and prevention markets. Over 30 years ago, their first product , the Lifecycle bicycle-ergometer, revolutionized the fitness world as the first electronic fitness machine. For commercial health club and individual users there is hardly a supplier who is more trusted - evidence of the integrity of Life Fitness and their dedication to the highest quality.
The Life Fitness equipment stands out for high-quality craftsmanship and exceptional longevity. The unrivaled, one-of-a-kind movement of the Life Fitness ellipticals, the patented Life Fitness FlexDeck shock-absorption technology of the treadmills, or even independence from the power grid thanks to the integrated generator in the bicycle-ergometers - Life Fitness offers you unrivaled perfomance features.
The Life Fitness Parabody power stations allow for a gym-quality workout with a minimal expenditure of time. The right choice of exercises, an ergonomic exercise feeling and the possibility of extending the range of exercises - those are the most convincing features of the Life Fitness Parabody training systems.
Life Fitness invests in research and development like hardly any other manufacturer and only accepts the best ergonomical principles. The most rigorous testing standards. The highest quality materials. The most modern methods of assembly. The strictest safety standards. The result? Unquestionable performance. Quality with no compromises.
Life Fitness equipment is the ideal, dependable training partner for your fitness.