Life Fitness Indoor Cycle IC7 by ICG
Sport-Tiedje Expert Review
Delivery by freight carrier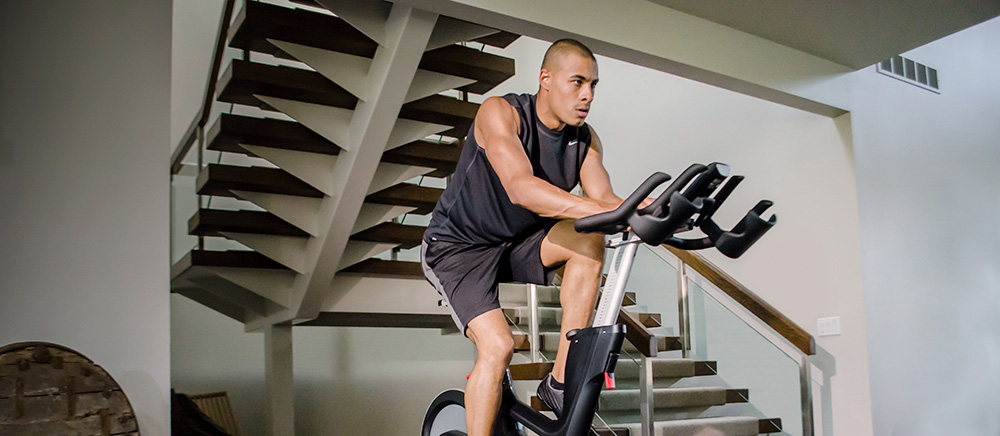 Life fitness powered by ICG® IC7 indoor cycle
wattsRATE® TFT computer 2.0


Optimum training analysis thanks to the easy TFT computers

Dual drive system


Perfect power transmission for an enjoyable ride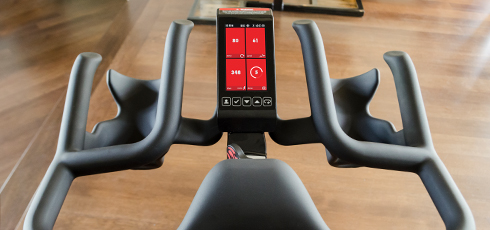 wattsRATE® TFT computer 2.0
The newly-redesigned training computer is very robust and allows for quick and easy navigation. The bright TFT screen shows you all important training data (time, distance, speed, etc.) during training. The entire screen lights up in the corresponding Coach by Color colour and shows you your present intensity level, with Coach by Color® using different colours to do so. There are no batteries needed for training computer, as it operates via the internal generator of the IC 7.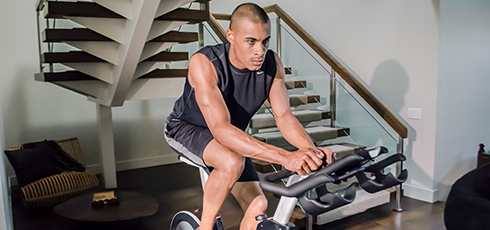 wattsRATE® Direct Power Meter
The WATTRATE® Direct Power Meter is attached at the meeting point between the two drive belts. This measures the forces that occur with a measurement tolerance of within 1%, which is very precise and is only found on a few indoor bikes. The WATTRATE® Direct Power Meter uses photocells to directly measure the torsional forces of the drive system spindle.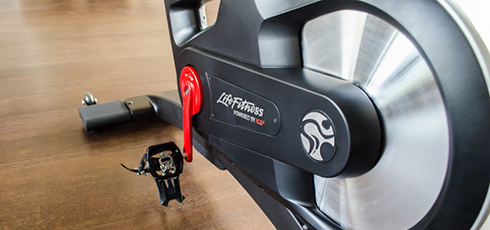 Dual drive system
A two-stage system comprising a high-quality poly V-belt and a cambelt is used to propel the IC 7. This system enables a large gear ratio of 1:11, which allows smooth transmission of a lot of torque and high flywheel speeds to be achieved. A transmission of power as perfect as this ensures a very comfortable driving experience and is very quiet.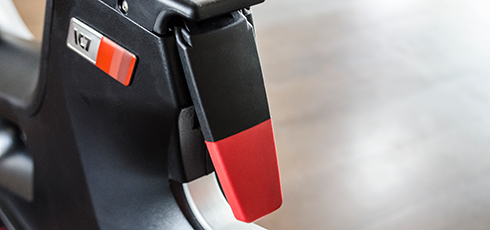 Perfect ergonomics
On the IC 7, you can easily and precisely adjust the padded racing saddle and the ergonomic handlebars with the adjustment slider and clamping lever. This way, the IC 7 offers optimum training conditions for athletes of all sizes. In addition, height adjustment on the saddle and handlebars is supported by a gas pressure spring, meaning you must use less force and that adjustment works smoothly.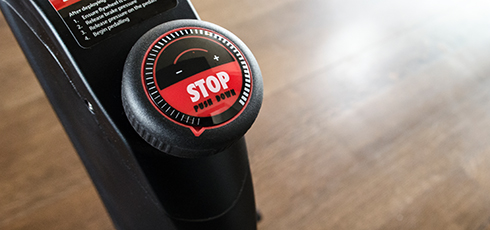 300° adjustment braking
You can easily set the various levels using the 300° rotary knob. What's great about this rotary knob is that you can adjust the resistance from 0% to 100% with less than one turn. This enables you to quickly and precisely regulate the resistance.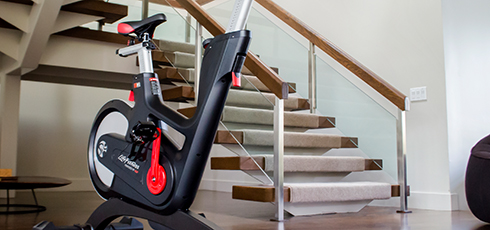 Low-maintenance indoor cycle at studio quality
It is made of very high quality materials to guarantee a long service life, even with intensive use. The V-frame is made of steel and, as such, very stable. Moreover, the inbuilt components such as the poly-V V-belt, the cambelt and the magnetic brake are very low-maintenance. The IC 7 is fully covered for these and other interior components to have optimum protection from sweat and dirt.
Reach your goals fast thanks to most precise training analyse
For you to very precisely follow and analyse your training, the IC 7 from Life Fitness has the revised WATTRATE® TFT Computer 2.0. In contrast to its predecessor, this computer is more robust and therefore more durable. It is very intuitive to use so that you can navigate quickly and easily through the menu during training and not be distracted. During the training, the TFT computer shows you all important training parameters such as time, distance, speed, watt, RPM, calories and pulse on the sharp and high-contrast 4.3 inch display. This means that you always have an overview of all important training parameters. The WATTRATE® Direct Power Meter is built into the IC 7 for an even more precise analysis of your training. This sits between the poly-V-belt and the cambelt of the dual drive system and measures the forces that are exerted when the pedals are pressed with a measurement tolerance of only +/- 1%. You will only find such high accuracy of measurement in precious few pther indoor cycles.

Another remakrable feature of the new WATTRATE® TFT Computer 2.0 is the LED display, located above the computer. This display enables you to use the Coach by Color® during training. The Coach by Color® uses different colours to show you at which intensity level you currently are. To do this, you need to enter three different pieces of information about your current physical condition before training starts. On the basis of this information, the computer calculates five intensity zones adapted to your personal athletic performance. The different zones are shown in colour on the display during training. The colour spectrum contains white, blue, green, yellow and red and also indicates the various loads in this order (white = very low, red = maximum loads). The advantages of a style coaching such as this for you are increased motivation, better training management and a better understanding of your workouts. In addition to personal advantages, the Coach by Color® also offers a useful function for instructors of an indoor cycling course, for instance, where there are many intensity changes. The Coach by Color® makes coaching easier for the course instructor and course participants can easily train at the same level of stress.

Another plus to the IC 7 is that it can be connected via Bluetooth 5.0 and ANT +. This allows you to connect your bike to external devices and archive your data in e.g. the ICG® training app, Strava or Zwift. In addition to its great options for precise training analysis, the WATTRATE® TFT Computer 2.0's sustainability proves impressive, as it is supplied with electricity through the inbuilt generator. The generator records energy on the flywheel and charges the inbuilt lithium polymer battery. This saves you electricity and you can set up the IC 7 anywhere in the room without a cable to trip you over.
Experience biking in comfort
The IC 7 has, at its disposal, a dual drive system, which brings together a hard-wearing Poly-V fan belt and cambelt. Such a drive system offers even further advantages. The first advantage is the large 11:1 gear ratio, meaning that the generated power is very efficiently transferred from the pedals to the flywheel. This efficient power transmission enables you to achieve high torques and flywheel speeds during training and thus to go to your maximum performance limit. In addition, the large transmission ratio and the optimal power transmission create a very pleasant and quiet driving experience, also supported by the good Q factor of 155 mm. The Q factor indicates the distance between your feet and pedals when sitting on the indoor bike. In addition, training with the IC 7 is pleasantly quiet even under high strain. The IC 7 has pedals on both sides so that the cycling can feel just right. This means that you have the option to train with your normal training shoes or with real racing bike shoes on clipless pedals.

Since a comfortable sitting position is very much important when you train, the IC 7 from Life Fitness has a well-padded unisex racing saddle and an ergonomically shaped handlebar. The racing saddle has been designed for you to sit very comfortably even during longer training sessions. Not only is the handlebar characterised by good ergonomics, but it also has several grip variants, two large drinking bottle holders and an easy-care soft PVC jacket. This means that you can always choose the right grip variant for the right training situation. In addition, the two drinking bottle holders ensure necessary fluid supply during a session. The IC 7's saddle and handlebars can be adjusted horizontally and vertically using the simple clamping levers and adjustment slides. To make adjusting the saddle and handlebars even easier and faster, gas pressure springs have been installed in the height adjustment, which notably reduce the effort required.

To enhance comfort furing training even further, a magnetic brake with a 300° dial has been installed on the IC 7. With this brake, you can set 100 different resistance levels, which are displayed on the WATTRATE® TFT Computer 2.0 as percentages between 0 and 100. The great thing about this brake is the 300 ° dial, which allows you to change the resistance from 0 to 100% in less than one turn, making setting the resistance faster and more precise, as you don't need several turns to change the training resistance with any significance.
The perfect combination of high-quality materials and prize-winning design
With the development of the IC 7 by Life fitness, care was taken in the selection of individual components and materials that ensured this indoor bike would also be suitable for use at the gym. For this reason, the installed parts have a long service life, even with intensive use. The V-frame of the bike is made of high-quality steel, which guarantees the indoor bike is stable. For the IC 7 to stand securely even on uneven floors, it has four adjustable feet. Furthermore, the poly-V belt, the cambelt and magnetic brakes are optimum quality and require little maintenance. The IC 7 is fully encased so that the other internal components are also low-maintenance. This lining protects against sweat and dirt.

Alongside the high-quality components, attention has also been paid to chic design in development. This makes the IC 7 a real eye-catcher. However, not only does the award-winning design have aesthetic advantages, but also functional ones. As the IC 7 has a slim design, it takes up comparatively less floor space.
---
Product details: Life Fitness Indoor Cycle IC7 by ICG
Perfect resistance control with a rotary knob – With just one turn of the knob go from 0 to 100% resistance
The power meter has very precise measuring accuracy of +/- 1%
Coach by Color: optical exercise support, help you to train with the ideal intensity
Watt range from 0 to 2500 watts
Integrated generator and a LiPo-battery
A unique transfer rate of 1:11, with the combination of toothed and Poly-V belts it transfers enormous power effectively, while offering perfect acceleration.

New WattRate TFT computer 2.0
Exercise control with Coach by Color
Connect technology: Bluetooth and ANT+
Compatible with the ICG Training app for saving exercise data
Performance measuring in watts – with 1% discrepancy
4 different display possibilities
Improved hardware and more internal memory
New Mirco USB connection offers even faster software updates

Compatible with the Life Fitness ICG trainng app (available for Android and iOS)
LED front display – Offers a visual connection between the instructor and participants
Saddle and handlebars are finely and very precisely adjustable with a locking lever
Height adjustment is supported with gas suspension
Ergonomic handlebars with numerous grip options and soft PVC lining
Combination pedals: Standard and SPD click system
Perfectly balanced aluminum flywheel
Emergency brake
Integrated generator – No power cable needed
Very nice arched design
Computer – name:
Propulsion and frame – Life Fitness Indoor Cycle IC7 by ICG:

Double belt drive: maintenance-free, quiet and perfect power transfer
V-Frame made of steel
Fully covered, to protect the internal components from sweat and dirt
4 adjustable feet

Two large drink bottle holders, built into the handlebars
Polstered unisex racing saddle
Covered platforms at the base of the frame to do some stretching after training
Tablet holder not included
Max. user-weight: 150 kg
Dimensions set-up - Life Fitness Indoor Cycle IC7 by ICG: (L) 132 cm x (W) 52 cm x (H) 102 cm

Technical information:
Computer:

Display:

duration,

distance,

speed,

watts,

RPM,

calories,

heart rate

Features:

heart rate measurement: + chest strap (sold separately)
Chest strap for telemetric heart rate measurement sold separately

Saddle adjustment

:

horizontal

,

vertical

Handlebar adjustment

:

vertical

,

horizontal

,

combination pedals

Extras

:

transport wheels

,
---
Warranty: Life Fitness Indoor Cycle IC7 by ICG
For further information on the warranty, please refer to the manufacturer's terms of warranty. The manufacturer's warranty is an extra service and does not affect your statutory rights.
| Manufacturer's warranty | Full warranty |
| --- | --- |
| Home use | 2 years |
| Semiprofessional use | 12 months |
---
Life Fitness Indoor Cycle IC7 by ICG Test & Evaluations
Write a product rating now and win a gift coupon of 500 € or the refund of the paid purchase price. The choice is yours!
---
Life Fitness Indoor Cycle IC7 by ICG Accessories
---
Sport-Tiedje puts each fitness equipment through its paces. Then our team of sports scientists, serious athletes, and service technicians of many years of experience evaluate the products of different categories. Compare easily the products using the Sport-Tiedje expert review and find your appropriate equipment.