The abdominal muscles

Different muscles guarantee that balance is maintained and our skeleton does not lose its balance. These muscles are, among others, the abdominal muscles.

Abdominal muscles are part of the skeleton muscles of the trunk. They are located at the abdominal wall and in the deeper abdominal area. They surround the abdominal and pelvic area and connect the chest with the pelvis. Their contraction makes bending and stretching of the trunk possible.

The superficial and deep abdominal muscles are differentiated. While the superficial one is situated at the front side of the abdomen (trunk wall) and is often well visible from the outside, the deep abdominal muscles go invisibly to the eye along the front of the spine.

The superficial muscles are the well known abs. Their responsibility can be found in the movement of the trunk, while the deep abdominal muscles mainly fulfill stabilization functions.

Have you already had the feeling that it is difficult to maintain an upright sitting position after a longer, sitting work ? This is a clear sign that muscle groups of your musculoskeletal system are only weakly built and you do not have a sufficient muscle corset.

Abdominal muscles fulfill a lot of tasks and are responsible for stabilization, stretching, lateral flexion, rotation, preservation of shape of vertebral column, and flexibility of vertebral column.

Here, in place of muscles of front trunc, three of the most common abdominals are defined and exercise possibilities for abdominal muscle workouts are presented.
The straight abdominal muscles

(Musculus rectus abdominis)

The straight abdominal muscle is situated on the front side of the trunc and is one of the most important bend muscles of the torso.

Origin:
5th, 6th, and 7th rib
Xiphoid process of the sternum
Base:
Pubis bone
Functions:

Bending vertebral column
Lowering of chest
Abdominal press
The outer oblique abdominal muscles

(Musculus obliquus externus abdominis)

The outer oblique abdominal muscle is also situated on the front side of the trunc and is one of the most important bending muscles of the torso.

Origin:
5th - 12th rib
Base:
Crest of ilium bone
Inguinal ligament
Functions:

Bending of torso
Bending to the same side
Turning to opposite side
The inner oblique abdominal muscles

(Musculus obliquus internus abdominis)

The inner oblique abdominal muscle is also situated on the front side of the trunc and is one of the most important bending muscles of the torso.

Origin:
Inguinal ligament
Crest of ilium bone
Aponeurosis (lumbar region)
Base:

Lower side of 10th - 12th rib

Linea Alba

Functions:

Bending of torso
Bending to the side
Turning to the same side
Examples of exercises
Crunch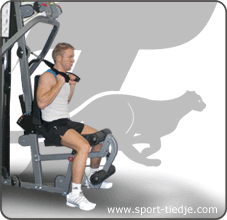 Course of motion:
Feet stand flat on the floor
Hands are on the grips, tight to the body, on height of ears (thumb shows downwards, palms face each other)
Stable position in neck
Tense abdominal muscles
Bend torso forward by pulling grips
Make your back round
Lumbar region rests on padding
Goal: shorten space between pelvis and sternum
Breathing:
Inhale while straightening up the torso
Exhale while lowering the torso
Advices of proof:
Accomplishment too short and/or too fast
Take a swing or bounce
Head too much bent
Training weight too high or too low
Defective construction of the machine
Alternatives:
In lying position

straight
with turn to the right or left side
with additional weights (i.e. weight plates, aerobic dumbbells)

On decline bench

straight
with turn to the right or left side
with additional weights (i.e. weight plates, aerobic dumbbells)
Leg lifting, lying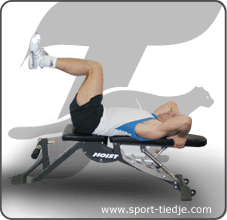 Course of motion:
Draw up knees so that thighs build a 90 degree angle to the floor
Lower legs are parallel to the floor
Legs can be hold parallelly or crossed
Hold with hands on the workout bench and stabilize torso
Tense abdomen
Lift pelvis
Pull knees slowly towards the chest
Course of motion is finished when you do no longer feel any tension
Finally, controlled return to initial position
Breathing:
Exhale while pulling up legs
Inhale while returning legs
Advices of proof:
Accomplishment too fast and too jerky
Take a swing
Lift the hip too much
Flex and/or extend legs (knee angle is the same during the whole motion !)
Alternatives:
Knee towards the chest
Vertical lifting (legs straight)
With scissor motion
Lateral bending, standing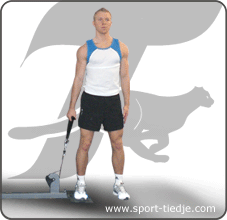 Course of motion:
Lateral position to lower cable pull
Grasp the grip in upright position
Pull cable should be tensed and already producing resistance
Bend torso in opposite direction to the multi-gym
Keep arms extended on the body while bending
Course of motion is finished when the free hand is on height of knees
Keep tension in abdominals during whole exercise
Breathing:
Exhale while bending/lowering the torso
Inhale while returning the torso
Advices of proof:
Distance of motion too short or too long
Accomplishment too fast and too jerky
False adjustment of vertebral column
Take a swing
Training weight too high or too low
Alternatives:
With barbell bar put on the neck
With dumbbell in neutral grip (hand without dumbbell rests in air respectively on the waist)
In lying position

Advice: Abdominal muscles are muscles tending to weakening. In contrast to that, back and chest muscles tend to shortening. Abdominal muscles which are too weak and shortened back and chest muscles have negative effects on the structure of the vertebral column. Strengthen, stretch, mobilize, and relaxe your trunc muscles in a holistic way. The body forms a unit and should be exercised in that way !

You can use versatile workout units for exercising abdominal muscles to create a varied and motivating abdominal muscle workout: