Polar Fitness and Activity tracker A300 (HR)
17
Customer ratings
4.71 of 5 Stars
Awards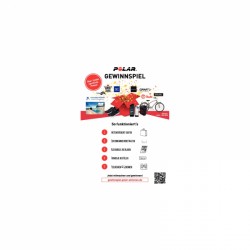 -5% ON ALL
* Valid until 18.03.2018, 23:59. The gift coupon can be redeemed online, by phone, and at our stores. The promotion cannot be combined with other discount promotions and is valid for the Sport-Tiedje range of products, except books, services, gift coupons, Concept2, Springfree and Berg.
PROMOTION OF THE DAY
Before
Starting from
£109.00
£109.00
£146.00
Now
£76.68
£98.91
Starting from
£76.68
72.85
Special price until 18.03.
minus voucher 18MAR18
Gift certificate: 18MAR18
Valid until: 18.03.2018
Not valid for the following manufacturer:
You save £3.83 £3.83£4.95
Today Starting from
£72.85 £72.85£93.96
Free delivery!
Free delivery!
Free delivery!