Purchase fitness equipment in Regensburg
Visit our specialist fitness store with a showroom of 300m².
Purchase fitness equipment in Regensburg – with Sport-Tiedje, Europes No. 1 for home fitness
Sport-Tiedje at Drehergasse 16 in Regensburg is your fitness specialist store for all kinds of home fitness equipment. Discover a comprehensive range of Crosstrainers, Treadmills, Multi-gyms, Exercise Bikes and Rowing Machines on our 300m² showroom floor. Along with the machines we have a large selection of sport nutrition products and accessories that can complement your training – from fascia rolls to pulse watches. If you're looking to lose weight, build muscles or prepare for the next Ironman Regensburg: we'll support you towards your fitness goals with the best suited fitness equipment. We are looking forward to your visit!
Buy your fitness equipment in Regensburg with the best advice
Not only are you buying the best equipment with us but are also receiving the best advice. Our sport and fitness experts will help you choose the correct fitness equipment for your needs. We'll gladly show you all functions and together we'll search which equipment you'll be able to train with at your best. In our fitness specialist store you also have the possibility to extensively test the equipment. You can also take advantage of our extra services, for example, our assembly service. We'll help you not only with your purchase but also support you afterwards with your questions about your training with your new equipment.
Fit in Regensburg – with the best suited home fitness equipment
Whoever wants to buy fitness equipment in Regensburg has good reasons to do so. One being having to take a break with outdoor training due to the bad weather and cold temperatures. That jogging over stone bridges in the rain or slippery conditions are no longer safe and water sports cease to run in the colder months of the year. Or maybe you just want some time to yourself while training instead of visiting an overfilled gym waiting for the next machine to get free.
The solution is fitness equipment at home, that you can use the whole year round to stay fit and to complete your training program without getting disrupted – totally flexible, comfortable and independent of the weather. Regular fitness training strengthens the cardiovascular system and results in improved physical awareness. Modern home fitness equipment are also built with joint-friendly suspension, varied training programs and numerous entertainment functions. So that you can control your training just how you want and recognise your progress.
---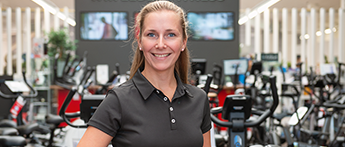 Our talent scouts search for