Taurus Curved Treadmill Run-X
Sport-Tiedje Expert Review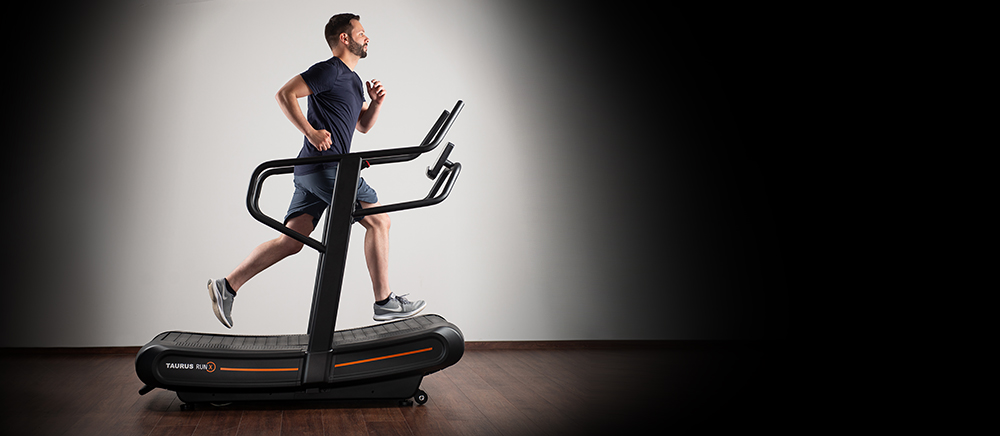 Taurus Run-X Curved Treadmill
Motorless treadmill

Maximum speed: limitless

Fast change of pace

Perfect for HIIT and interval training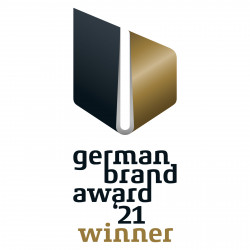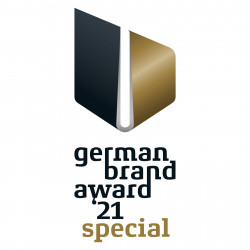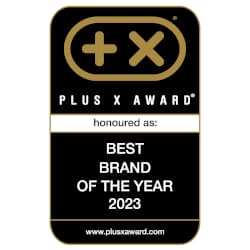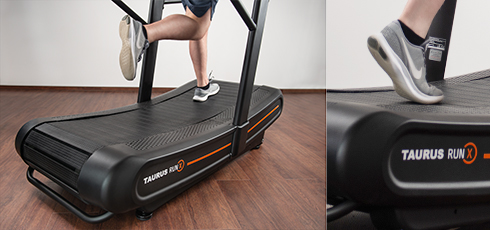 Curved tread
The curved running surface allows you to drive the treadmill using your muscles alone – and with no speed limits imposed! On the Run-X, you can run as fast as you want and change the pace at any moment. Experience highly effective HIIT and interval training!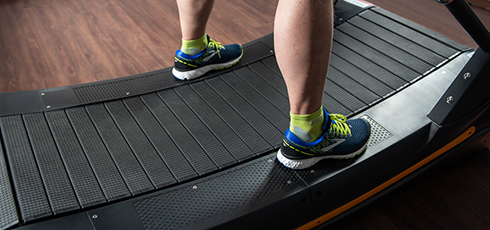 Wide treads
The treads on both sides of the treadmill are extra wide. This means you can really give it your all on the Run-X and then just jump off. In combination with the handrails and long running surface, the Run-X guarantees maximum safety during sprints.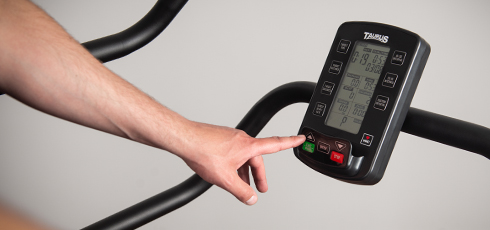 Clearly-Presented Display
The clear display lets you keep an eye on the most important running values during your workout. Where other Curved Treadmills do without training programmes altogether, the Run-X offers seven different programmes for a varied training plan.
Extremely high calorie consumption and four resistance levels
The Run-X challenges your entire body. Studies show that running on a curved treadmill has a particularly good training effect: in the same amount of time, you burn up to 30% more calories than on a conventional treadmill – perfect for losing weight! You can use the four different resistance levels to raise the intensity to a new level and burn even more calories!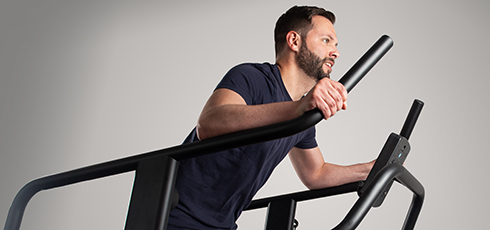 Extra-long handrails
The extra long handrails on the side of the treadmill offer beginners a high level of safety on the Run-X and enable professionals to run even faster. So the Taurus Run-X Curved Treadmill can be used by beginners through to professional users.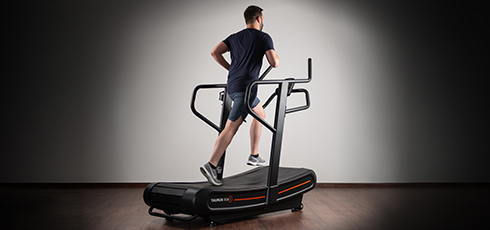 Sustainable training
The Run-X runs entirely without electricity, as it is powered solely by your strength as a runner. Another sustainability aspect is the fact that this incredibly stable treadmill is made from durable materials. Since the running mat is made of hard plastic slats, there is almost no wear and tear. Despite its robust construction, the running mat absorbs shock in the same way as a tartan track, which makes it very pleasant to walk or run on. Since the treadmill does not have a motor or complicated electronics, it is also very low-maintenance.
---
Product details: Taurus Curved Treadmill Run-X
The perfect machine for HIIT Training
No complicated electronics, no motor, extremely robust, almost no wear and tear
7 programmes: target programmes (time, distance, calories), target heart rate with warning tone, 10/20 interval, 20/10 interval and user-defined interval
Several difficulty levels
Clear, easy to read display
Especially robust construction: max. user weight of 150kg even during intensive sprints
Speed is almost only limited to your training level
Extra long running area offers high security while running at high speeds
The curved treadmill is purposely built with quick changes in speed in mind
Extra long hand-rails offer beginners more security and allow professionals to run even faster
The "running mat" is made out of hardend synthetic slats: extremely loadable and robust
Extra wide foot rails next to the running mat
Adjustable feet to compensate for uneven floors
No power connection required (display is operated with 2 x AA batteries)
Large lifting handle on the back: simply lift and roll the treadmill on its castors
Incl. tablet holder
Max. user weight: 150 kg
Dimensions set-up - Taurus Curved Treadmill Run-X: (L) 172 cm x (W) 81 cm x (H) 157 cm

Technical information:

Running surface: 160 x 43 cm

Computer:

Display:

duration,

distance,

speed

,

pace,

calories,

heart rate

Display of exercise profiles via LCD
Exercise programs in total: 7

Features:
---
Description: Taurus Curved Treadmill Run-X
Taurus Run-X: a sprinter among treadmills
Create your own treadmill training experience with unlimited maximum speed on the Run-X from Taurus: the Run-X is a Curved Treadmill that works without a motor. The tread curls upwards at the front and back, making the tread resemble a curve. When you step forward, you set the running mat in motion and drive the treadmill using your own running speed. This means that you can determine the pace by yourself and the Run-X reacts immediately to your speed changes.

This treadmill principle makes the Run-X ideal for HIIT sessions, for example, where you alternate phases of high intensity with phases of low speed. With this kind of training method, you can achieve even more in a shorter amount of time, because with HIIT training, the afterburn effect comes into play, whereby you are still burning calories up to 48 hours after you finished your workout. In addition, the Run-X has seven different training programmes and offers you even more variety than its predecessor. You can choose between three target programmes for time, distance or calories, a target heart-rate programme with a warning tone, a 10/20 second interval programme, a 20/10 second interval programme and a user-defined interval programme. This treadmill also has four resistance levels that can be set using a lever on the side of the treadmill. This gives you the opportunity to simulate mountain runs and incorporate an additional training stimulus into your workout. At the highest resistance level, you can also do sled pushes on the treadmill.
Maximum safety even at top speeds
The Run-X has very long handrails and wide side treads, so you can test your limits during your workout. Run until you can't anymore and then just "jump" off. The raised surface on the treads and the side handrails ensure a secure hold. In addition, the particularly long running surface gives every runner a safe and comfortable running feeling, even at high speeds. You can also use the adjustable feet to compensate for unevenness in the floor, so that the treadmill stands firmly and securely.
Tremendous stability and load-bearing capacity
The treadmill is built to withstand intensive workouts: the frame is extremely sturdy and the surface of the robust running surface is made of hard plastic slats. Even when you are doing fast sprints, the Run-X won't wobble.

Despite its solid construction, you can easily move the Run-X to a suitable area of your living space, as the treadmill is equipped with a lifting handle (on the rear) and castors. This means that the treadmill can be lifted, moved and set up anywhere in the room without the hassle of cables getting in the way.
The highlight in your fitness room – at home, in a hotel or studio
The Run-X is not only the ultimate training machine for home use; made from high-quality materials, this incredibly stable treadmill with excellent load-bearing capacity is even sold with a guarantee for professional use.

The Run-X is the ideal treadmill for fitness rooms where runners of different training levels come together, because it is just as suitable for slow walking as it is for extreme sprints.

Upgrade your sports club, fitness studio, hotel or company gym with the Run-X. Your members, guests and employees will love to train on it!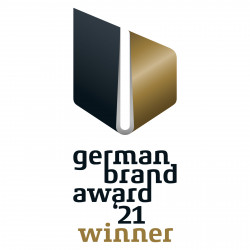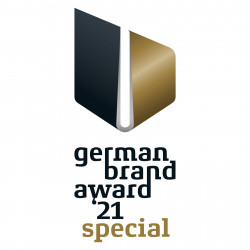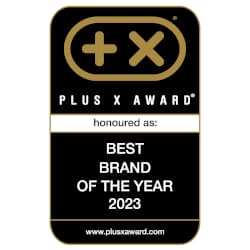 ---
Warranty conditions: Taurus Curved Treadmill Run-X
For further information on the warranty, please refer to the manufacturer's terms of warranty. The manufacturer's warranty is an extra service and does not affect your statutory rights.
| Manufacturer's warranty | Full warranty |
| --- | --- |
| Home use | 24 months |
| Semiprofessional use | 12 months |
| Professional use | 6 months |
---
Taurus Curved Treadmill Run-X Test & Evaluations
5 of 5 Stars
(3 Customer ratings)
Sport-Tiedje Expert Review
---
---
---
Taurus Curved Treadmill Run-X Accessories
Out of stock
Back in stock approximately CW 13
(25/03/24 - 29/03/24)
---
Bestsellers of the last 30 days from the category Treadmill
---
Sport-Tiedje puts each fitness equipment through its paces. Then our team of sports scientists, serious athletes, and service technicians of many years of experience evaluate the products of different categories. Compare easily the products using the Sport-Tiedje expert review and find your appropriate equipment.