Taurus rowing machine Row-X
Sport-Tiedje Expert Review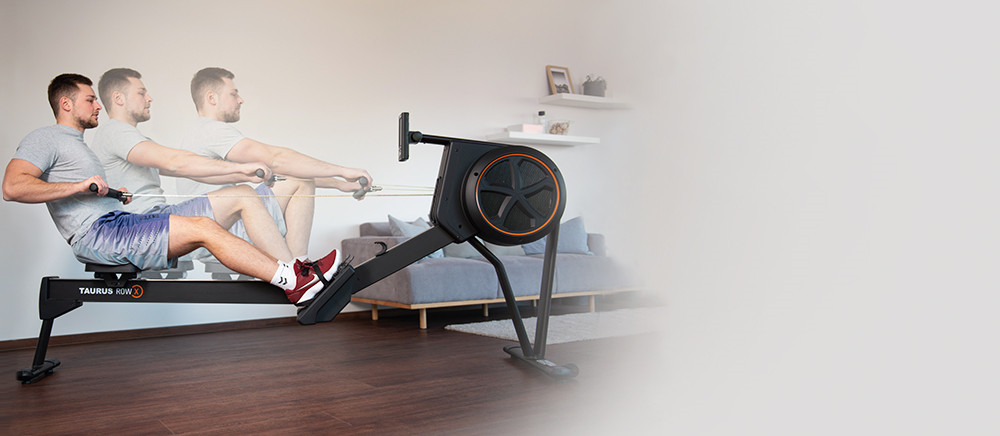 Taurus Rowing Machine Row-X
Professional row training for every perfomance level
Hybrid resistance system

Optimal pull at any intensity level

Smart design

Looks good and rows great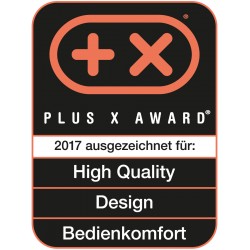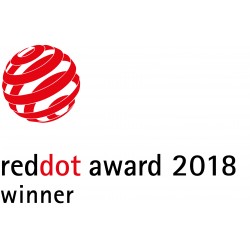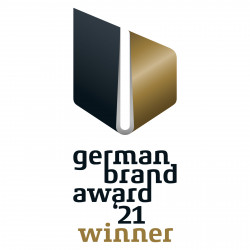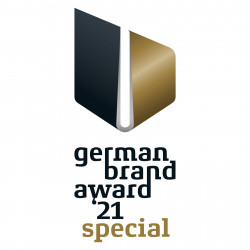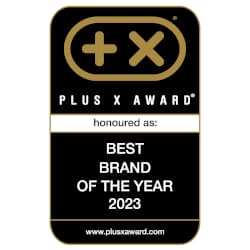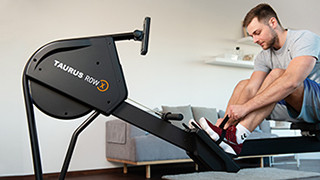 High seat comfort
The Row-X literally has a high seating comfort: With a seat height of 51cm it makes for getting on and off very comfortable. This is ideal when users have restricted moblity or after a Tabata session and don't want to fight from getting up from floor level!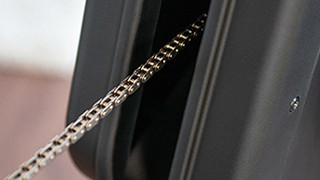 Maximum stability for maximum performance
The Row-X is suited for all training levels. That at maximum level it has maximum stability. The especially stable mainframe, made from a single bent steel pipe, is exceptionally ridgid and pefectly transfers your power. Thanks to its' high stability the Row-X is certified for commerical use.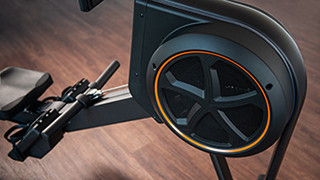 Quality shown also in its design
When we say, quality shown also in its design, we don't mean it looks good. But without a doubt it does look good. The quality is shown by the implementation of the design: The pieces fit perfectly together, the excellent wheels under the seat roll quietly over the rails, the hinge on the grip gives an optimal grip balance. That is the, hard to beat, design of the Row-X.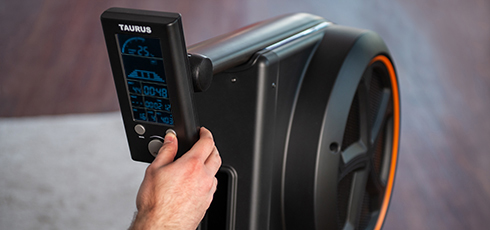 The Taurus Row-X performs the best for everyone
The Row-X promises the motto of the Taurus brand: "Maximum Performance". The Taurus Row-X always performs for home athletes or fitness enthusiasts of every training level. The hybrid resistance system of an air brake and magent brake result in always performing at every level. In low intensity levels the magnet brake makes sure of a smooth stroke – while the air brake has an almost unlimited resistance level.

For everyone that wants to exhaust themself, the display has a surprise for you ready: There are pre-set HIIT programs, that are perfectly suited to get fitter and lose weight in the shortest time possible!
---
Product details: Taurus rowing machine Row-X
Advanced hybrid resistance system: excellent pull motion in both high and low intensities
Comfortable seat height of 51cm
Extremely stable - even suited for use in gyms
4 installed HITT programs for fast and sustained training results
Smart design
Seat slides quietly
Large, clear training computer with all performance data
10 training programs, e.g. Goal based, race, manual and high intensity programs
A highly thorough production with especially chosen materials
Soft paded and comfortably contoured seat
Very stable frame made out of steel pipes
16 resistance levels
Max. user weight: 150 kg
Dimensions set-up - Taurus rowing machine Row-X: (L) 250 cm x (W) 63 cm x (H) 118 cm

---
Description: Taurus rowing machine Row-X
The Taurus Rowing Machine Row-X is a first class fitness machine for beginners and professionals, for your fitness room at home or for the gym. Through the combined resistance systems the rower has an excellent pull in both low and high intensity levels.
Taurus Rowing Machine Row-X – the right rowing machine for all demands
The Taurus Row-X is an exceptional rowing machine with a hybrid resistance system. More specifically said the Taurus Rowing Machine Row-X has a combined air-magnet-brake system. While the air brake provides an almost unlimited resistance level, the magnet brake provides a comfortable and smooth stroke in the low resistance levels. The Taurus Rowing Machine Row-X is therefore perfect for beginners as well as professional rowers.
Stability and comfort, even in intensive sessions
The Taurus Rowing Machine Row-X is built with high stability in mind. That is why this rowing machine is certified for commerical use, e.g. in gyms; it's suited for stronger and heavier users and for anyone wanting to exhaust themselves while rowing. The long rails and rolling seat are constructed to produce minimal noise. The seat is built at a comfortable height of 51cm. Making it easier to get off the rowing machine after a long, exhausting training session and also easier for users with movement disabilities.
The main frame is made from one massive bent steel pipe. This promises a high loadability and rigidity even in intense HIIT or Tabata sessions.
Award winning training computer with 4 special HIIT programs
The rowing machine is built with 10 training programs, that can be broken up into 4 categories:
The freedom loving rowers use quickstart or the manual mode. Here you can set your training how you want or just start rowing. Nothing is pre-set and your training values count up from 0. You can start when you want and stop when you want.
Goal oriented rowers have the programs 2 to 4. Here you can set a time, calorie or distance target. The program ends when you have reached that target. These programs are especially suited to lose weight (calories) or to enable to follow your improved training level more precisely.
For competitive rowers the pacer program is for you. Here your race against your average time or against your personal best time. The race is also graphically shown on the display.
The 4 HIIT programs (High Intensity Intervall Training) is perfect to quickly improve your fitness and to lose weight effectively. These 20 to 30 minute long programs changes between high intensity and regeneration phases. These short but sweet training sessions strongly stimulate burning fat and also save you time.
The easy to read large display shows all important training data. For example you have the overview of your current time, time / 500m or your heart rate (while wearing a compatible chest strap).
Indoor Rower with numerous design highlights
The Taurus Rowing Machine Row-X also shines with numerous design highlights. This starts with the perfectly produced covering. A special injection moulding process makes sure that the surface is absolutely even and that no spacing between the individual pieces occurs.
The display was designed with bright values on a dark background. Not only does it look good but is also clearer to read. The middle of the sliding rail darkly coated and rounds up the smart design.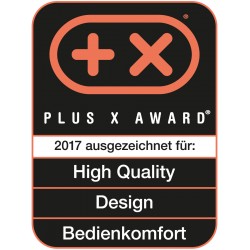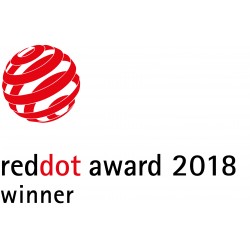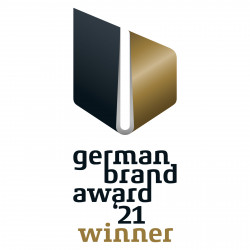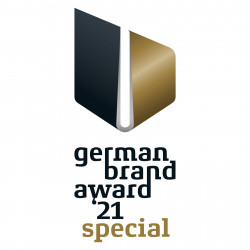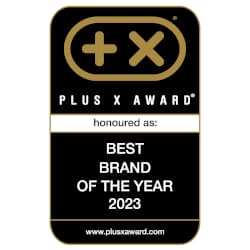 ---
Warranty conditions: Taurus rowing machine Row-X
For further information on the warranty, please refer to the manufacturer's terms of warranty. The manufacturer's warranty is an extra service and does not affect your statutory rights.
| Manufacturer's warranty | Full warranty |
| --- | --- |
| Home use | 24 months |
| Semiprofessional use | 12 months |
| Professional use | 6 months |
---
Taurus rowing machine Row-X Test & Evaluations
4.97 of 5 Stars
(31 Customer ratings)
Sport-Tiedje Expert Review
---
---
---
Taurus rowing machine Row-X Accessories
Out of stock
Back in stock approximately CW 09
(26/02/24 - 01/03/24)
---
Bestsellers of the last 30 days from the category Rowing machine
---
Sport-Tiedje puts each fitness equipment through its paces. Then our team of sports scientists, serious athletes, and service technicians of many years of experience evaluate the products of different categories. Compare easily the products using the Sport-Tiedje expert review and find your appropriate equipment.