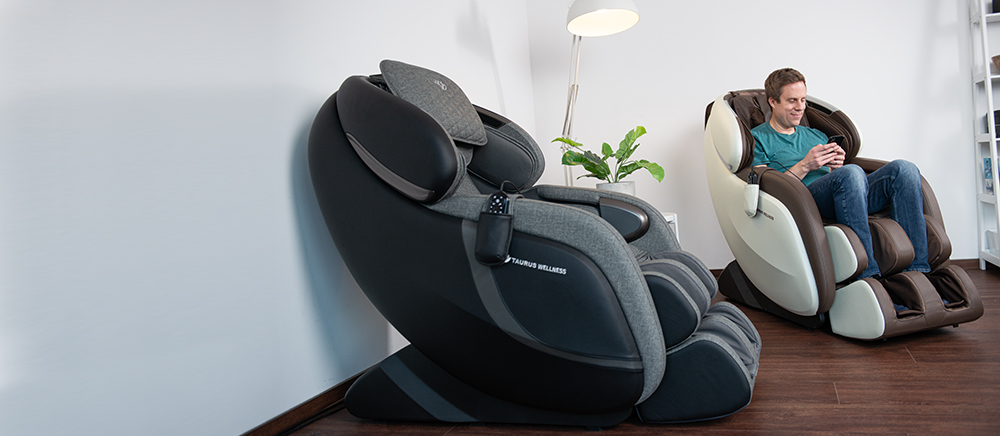 Taurus Massagesessel XL
Luxus pur: Taurus Massagesessel XL
Massage, Regeneration, Relaxen
und Wellness in einem Gerät
Entspannung vorprogrammiert
Erleben Sie eine wohltuende Massage
für den ganzen Körper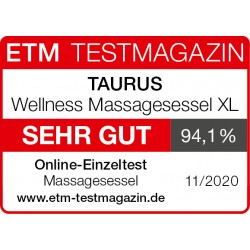 Große Programmvielfalt entdecken
Der Massagesessel XL bietet eine große Programmauswahl und ermöglicht mit seinen vielen Funktionen eine effektive Ganzkörpermassage. Wählen Sie zwischen 4 automatischen und 5 manuellen Programmen und lassen sich von Kopf bis Fuß verwöhnen. Für die Extraportion Entspannung verfügt der Sessel zusätzlich über eine Wärmemassage, eine Luftdruckmassage und die Zero-Gravity Liegeposition.
Einfach an Körpergröße anpassen
Dank der Größeneinstellung kann der Massagesessel an alle Körpergrößen angepasst werden. Somit ist der Sessel sowohl für kleine Nutzer als auch für große Nutzer geeignet. Der Massagesessel kann sogar von Nutzern bis zu einer Körpergröße von über 200 cm genutzt werden.
Zurücklehnen und entspannen
Der Massagesessel wird vormontiert geliefert. Öffnen Sie einfach das Paket und rollen den Sessel mithilfe der Transportrollen zu Ihrem Lieblingsort. Setzen Sie sich auf den Massagesessel, lehnen sich zurück und genießen eine angenehme Massage.
Musik an, Welt aus
Hören Sie während der Massage Musik, die zu Ihrer Stimmung passt. Mit der Bluetooth-Funktion lässt sich Ihr Smartphone ganz einfach mit den Lautsprechern des Massagesessels verbinden. Dadurch können Sie auf Ihre gesamte Musik-Bibliothek zugreifen.
Kinderleicht zu bedienen
Die Fernbedienung des Taurus Massagesessel XL liegt gut in der Hand und ist übersichtlich gestaltet. Außerdem lässt sie sich einfach bedienen, da alle Tasten eine bildliche Darstellung besitzen. Sobald Sie eine Funktion wählen, sehen und spüren Sie die aktivierte Funktion.
Zeit für Schwerelosigkeit
Mit der integrierten Zero-Gravity Funktion nehmen Sie eine angenehme Position ein, in welcher Sie die Schwerkraft weniger wahrnehmen und spüren. Dadurch werden Ihre Wirbelsäule, Ihre Gelenke und Ihre Muskeln entlastet, wodurch Ihre Gesundheit optimal gefördert wird.
---
Product details: Taurus Wellness massage chair XL
Luxury massage chair: massage, reinvigoration, relaxation, wellbeing
Full-body massage With several massage rolls & types of massage
Pre-programmed relaxation - 4 automated settings
Just as you like it best: 5 manual settings: kneading, tapping, dual, Shiatsu, rolling
Massage areas: neck, shoulders, upper and lower back, hips, buttocks, calves, feet
Types of massage: kneading, tapping, dual (kneading and tapping), Shiatsu, rollers, compression, Junetsu
Special functions: heat massage, air pressure massage, lie-down (Zero Gravity function)
Zero Gravity function - the lie-down function relieves the spine, joints and muscles thanks to the ergonomical construction
Air pressure massage areas: shoulders, hips, calves, feet
Couple your music player (e.g. smartphone) via Bluetooth to the chair and listen to music over the fitted loudspeaker
Dimensions upon installation Taurus Wellness massage chair XL:

upright position: L 138 | B 78 | H 115cm
Liegeposition: L 166 | B 78 | 93cm

Maximum user weight: 160 kg | Maximum height: 200cm
---
Description: Taurus Wellness massage chair XL
Von Kopf bis Fuß
Der Taurus Wellness Massagesessel XL bietet eine große Programmauswahl mit manuellen und automatischen Programmen. Die automatischen Programme beinhalten die Funktionen Relax, After Work, Stretch, Sleep und Deep.

Bei den manuellen Programmen können Sie zwischen Kneten, Klopfen, Dual, Shiatsu und Rollen wählen. Zusätzlich bietet der Massagesessel viele Spezialfunktionen. Zu den Spezialfunktionen gehören eine Wärmemassage, eine Luftdruckmassage und die Zero-Gravity Liegeposition.

Insgesamt verfügt der Massagesessel über sieben unterschiedliche Massagetechniken. Dazu gehören die Funktionen Kneten, Klopfen, Dual (Kneten und Klopfen), Shiatsu, Rollen, Kompression und Junetsu. Mit einer Massage im Taurus Wellness Massagesessel XL können Sie viele unterschiedliche Zonen am gesamten Körper massieren. Hierzu zählen der Nacken, die Schultern, der obere und untere Rücken, die Hüfte, der Po, die Waden und die Füße.
Die perfekte Position
Auf dem Taurus Wellness Massagesessel können Sie zu jeder Zeit die für Sie passende Position einnehmen. Mithilfe der Fernbedienung können Sie nämlich sowohl die Lehne als auch das Fußteil vor und zurückstellen. Für die anatomisch perfekte Position können Sie auf die G-Taste drücken. Dadurch gelangen Sie in die Zero-Gravity Position, welche Ihre Wirbelsäule, Ihre Gelenke und Ihre Muskeln entlastet. Außerdem können Sie die Massageposition jederzeit mit den Pfeiltasten anpassen und den massierten Bereich somit wechseln.

Sie suchen nach einer professionellen Massage für zu Hause? Dann haben Sie mit dem Taurus Wellness Massagesessel XL Ihren persönlichen Masseur gefunden!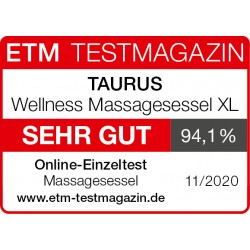 ---
Warranty conditions: Taurus Wellness massage chair XL
The guarantee is valid in terms of the general statutory provisions for the end user.
---
Taurus Wellness massage chair XL Test & Evaluations
Write a product rating now and win a gift coupon of 500 € or the refund of the paid purchase price. The choice is yours!
---
Sport-Tiedje puts each fitness equipment through its paces. Then our team of sports scientists, serious athletes, and service technicians of many years of experience evaluate the products of different categories. Compare easily the products using the Sport-Tiedje expert review and find your appropriate equipment.