Have you heard...
...what does Functional Training mean ?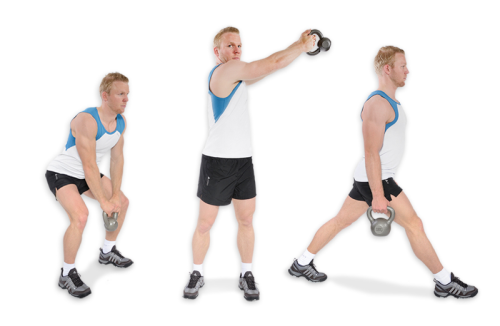 Functional Training is a generic term for training methods, where pure muscle growth or stamina are no longer in the main centre of interest but a general improvement of fitness is aimed at. Functional Training orientates on daily, natural courses of motion. Muscles are not considered in an isolated way but the complex interplay of muscle groups is focused on. It is not only strength, but flexibility, balance, and muscle coordination get exercised as well. Please mind that Functional Training neither replaces stamina nor strength training but serves as a useful completion for increase in fitness, health, and well-being.
Here you find an overview about Functional Training fitness equipment
Where does Functional Training come from ?
Functional Training is on the up and up but it has not been invented just lately. Basic exercises of Functional Training like pushups are known from the antiquity, where holistic formation of the body was part of the ideal. The real potential of these functional exercises has been re-discovered lately and became known by the book "Functional Training" of Michael Boyle. Functional training caused a stir by the football national team in Germany. Jürgen Klinsmann engaged the fitness coach Mark Verstegen, who rejected approved training methods and seeded multi-dimensional courses of motion. Suddenly, you saw the national team exercising with gymnastics balls and Thera bands. As mocking and amazed the press and public looked at the new Functional Training at the beginning as impressed all of them were after the extremely positive come off of this young team at the football world cup. The players convinced fans, experts, and TV reporters by their athletic style of playing. This was the summer's tale. Functional Training contributed an important part and it has become hard to imagine pro sports without it since then !
What is this success of Functional Training based on ?
Trunk or core muscles play a decisive role for all sporty and daily motions. The core muscles stabilize the body position for almost all courses of motion. Besides strengthening the core/the centre of the body, other stabilizing exercises are in the main centre of interest as well. Functional Training pursues a holistic approach. The main focus is always on the interplay of several muscles and even muscle groups. Joints and tendons are included. Functional Training hardly stands for one-sided, repetitive motions but multi-joint, complexe series of motion.
Which effect does Functional Training have ?
You become more dynamic with Functional Training. The effective training method strengthens deep muscles, which are often difficult to exercise on multi-gyms. Muscular imbalances are compensated - Functional Training is an excellent prophylaxis against injuries. Rapid strength and strength-stamina are increased, reactions and coordination are improved. And last but not least, fat burning is stimulated with a body exercised to the "core".
Which fitness equipment is required for Functional Training ?
Functional Training can be done with many small fitness equipment. Functional Training fitness equipment for proper-weight-exercises are, i.e., workout bars of Taurus, better known as Taurus Multi-Functional Trainer. Fitness equipment for balance or so called instability workout are used for Functional Training. Those, who have already done squats or pushups on a Balance Pad, know that these are much more demanding. The trend equipment for proper-weight-exercises are Sling Trainers. They offer a great variety of exercises, are quickly assembled, and can be used almost everywhere. Therabands and other elastic training tubes are suitable for Functional Training. Exercise examples for functional whole body workouts are presented on the Sport-Tiedje exercise poster for Kettlebells.