cardiojump Fitness Trampoline Premium
Sport-Tiedje Expert Review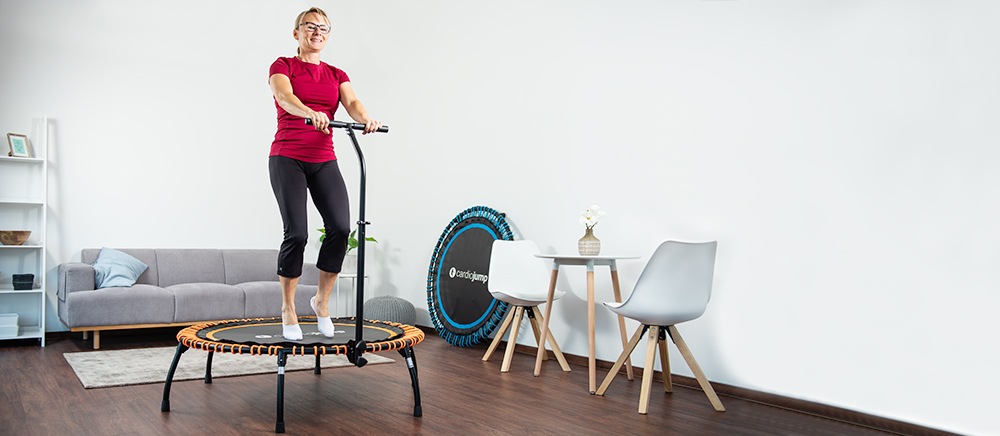 cardiojump fitness trampoline
Diverse training that is really fun
Varied and gentle on the joints

For gentle and effective cardiovascular and fitness training

Folding mechanism

Super flat – simply stow away under the sofa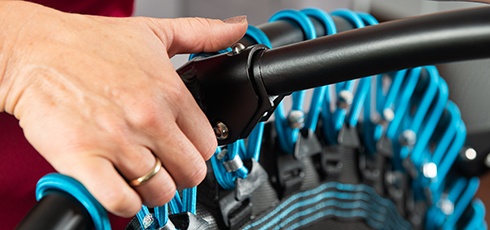 Practical folding mechanism
Thanks to its foldable legs, the space-saving trampoline can be stowed easily away. The folding legs make the trampoline flat enough to be simply pushed under the sofa or bed. The rubber feet covers protect the floor and prevent the trampoline from slipping.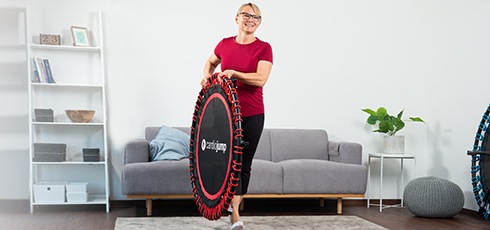 Compact and lightweight design
Before each workout, set up the fitness trampoline where you would like to train this time, for example in front of the TV or with a view of the garden. Since it is lightweight, it can be easily carried by just one person. You can do your training anywhere in the living room and train in peace, because trampoline jumping is very quiet. The cardiojump trampoline is delivered already assembled. All you have to do is take it out of the box and unfold the legs. You can start training immediately.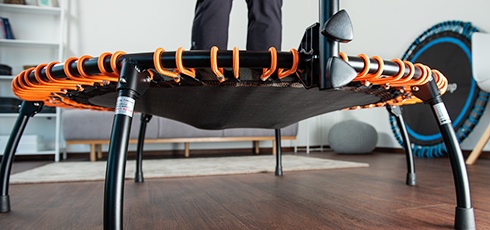 Hardwearing jumping mat
The cardiojump fitness trampoline includes a very hardwearing jumping mat. It consists of absolutely tear-resistant material and is therefore perfectly protected against "wearing out" even after years of use. High-quality rubber rings also ensure a very gentle and balanced jump.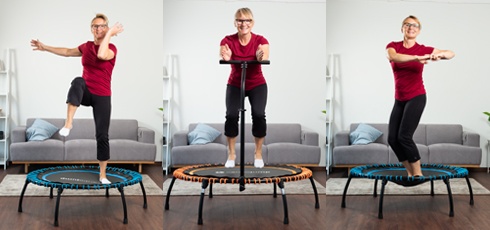 Many different exercises are possible
The indoor trampoline offers training options for all age groups, training levels and training goals. Trampoline training uses up to 25% more calories than jogging. The variety of exercises also speaks for itself: you can practice many different fitness exercises and levels of difficulty on the trampoline. And it's also great fun!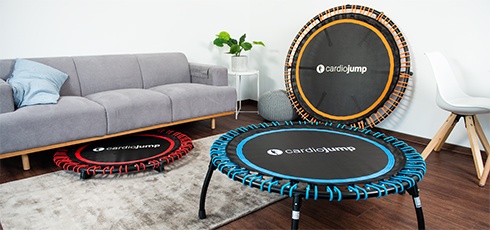 Available in three sizes
The cardiojump fitness trampoline is available in three different sizes. Depending on your height and training requirements, you can get exactly the right trampoline that suits you best. The sporty mini trampoline also looks great with its chic, colourful design. A handrail for the trampoline is also available separately, offering additional support when doing jumping fitness exercises.
---
Product details: cardiojump Fitness Trampoline Premium
Gentle jumping properties thanks to the high quality bungie-rings
High-quality fitness trampoline
Training on a trampoline burns up to 25% more calories as compared to jogging
Easy storage thanks to the foldable legs
For a gentle and very effective cardiovascular and fitness training
Jumping on the trampoline is very quiet. For example you can train while watching TV
Rubber feet protect the floor and prevents the rebounder from sliding
Very easy on the joints: e.g. can be used for rehabilitation measures (Holding-rod available separately)
Nice colour design
Jumping on a trampoline stimulates circulation and lymphatic flow
The core muscles are required to stablise and, therefore, trained due to the instability of the jumping mat
Rust free frame and durable jumping mat
Max. user weight: 125 kg
---
Description: cardiojump Fitness Trampoline Premium
The cardiojump fitness trampoline: fun and effective fitness training!
The cardiojump fitness trampoline is available in three different sizes and offers an enjoyable way to keep fit at home in a varied and joint-friendly way. The fitness trampoline not only looks good, it also lets you do great jumps, and can be easily stowed away thanks to the foldable legs.
The cardiojump fitness trampoline offers complete satisfaction, in terms of training quality, workmanship and design. The mini trampoline is suspended by rubber ropes. This ensures a very even and balanced jump. The fitness trampoline's suspension is pleasantly soft and therefore very easy on the joints. In addition, a soft suspension has a nice side effect: the calorie consumption increases. If you jog on the cardiojump fitness trampoline, the calorie consumption is up to 25% higher than when jogging on the street.
The cardiojump fitness trampoline for all age groups and training goals
The indoor trampoline offers several different training options for all age groups and training levels. For younger users, the focus is on having fun. Older users can have fun too, course. Thanks to this joint-friendly training equipment, everyone can reach their target with fun and a little discipline. A protective edge covers the hanging eyelets and with the separately available handrail, getting on and off is even safer. The handrail can also be used to focus on and provides stability when doing more strenuous and jump-intensive exercises.
High quality and the best workmanship
Regular checks ensure consistently good quality. The high-quality finish of the individual parts means that the trampoline requires no maintenance. The jumping mat is made of tear-resistant, hardwearing material that won't wear out. A floor protector is also included, making sure your floor is immediately suitable for trampoline use.
---
Warranty conditions: cardiojump Fitness Trampoline Premium
For further information on the warranty, please refer to the manufacturer's terms of warranty. The manufacturer's warranty is an extra service and does not affect your statutory rights.
| Manufacturer's warranty | Full warranty |
| --- | --- |
| Home use | 24 months |
| Semiprofessional use | 12 months |
| Professional use | 6 months |
---
cardiojump Fitness Trampoline Premium Test & Evaluations
5 of 5 Stars
(10 Customer ratings)
Sport-Tiedje Expert Review
---
---
---
cardiojump Fitness Trampoline Premium Accessories
Out of stock
Back in stock approximately CW 52
(25/12/23 - 29/12/23)
---
Bestsellers of the last 30 days from the category Fitness trampoline
---
Sport-Tiedje puts each fitness equipment through its paces. Then our team of sports scientists, serious athletes, and service technicians of many years of experience evaluate the products of different categories. Compare easily the products using the Sport-Tiedje expert review and find your appropriate equipment.