cardiostrong Exercise Bike BX60 Touch
Item number
CST-BX60-B-TOUCH
Sport-Tiedje Expert Review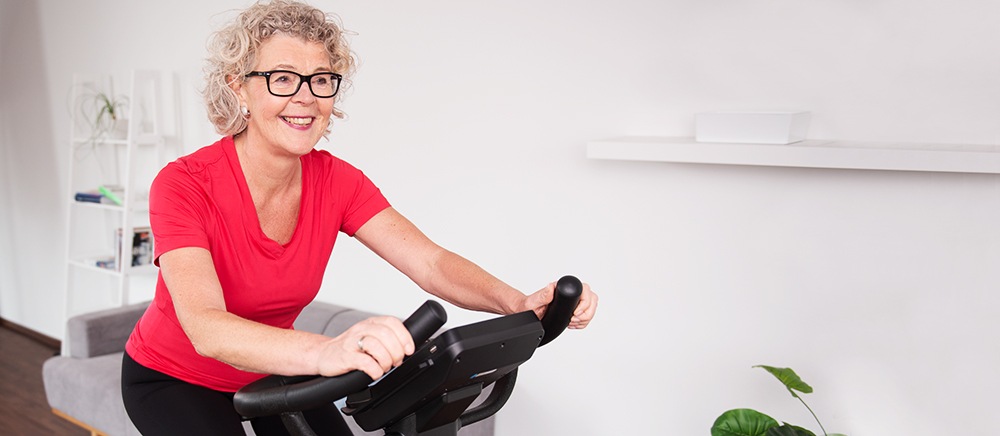 cardiostrong Exercise Bike BX60 Touch
The perfect combination of training comfortably at home and entertainment.
Large touchscreen console

Diverse and entertaining

Comfortable construction

An optimal course of motion and comfortable training experience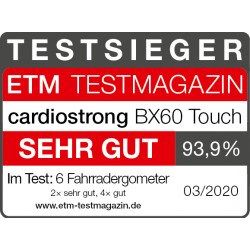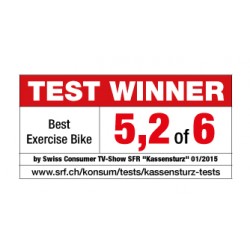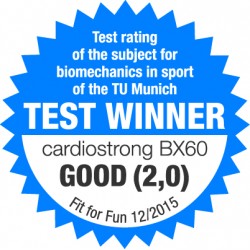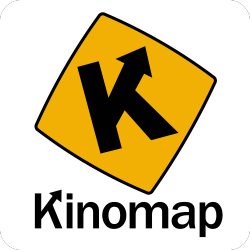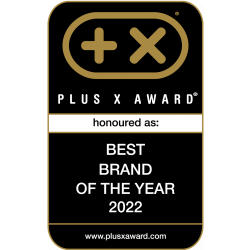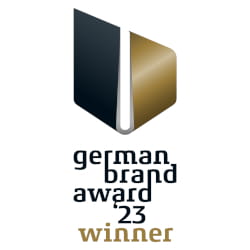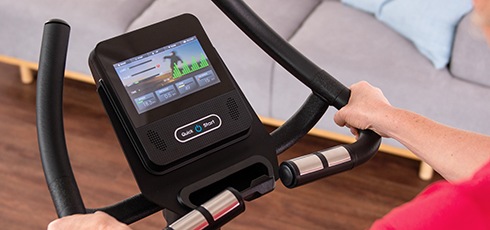 Large touchscreen console
The 7.1" touchscreen console of the cardiostrong BX60 Touch is very easy to use as well as offering more functions. The display resolution guarantees optimal reading and viewing properties. The exercise bike has 19 differing training programs. Additionally there are diverse apps pre-installed that can optimise training as well as keeping you entertained during training.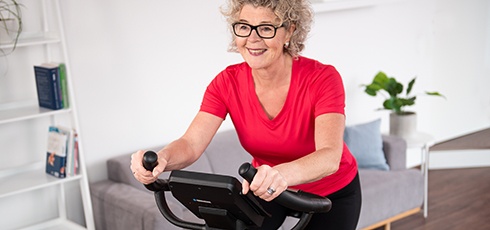 Home entertainment done differently
There are differing entertainment apps pre-installed on the touchscreen console, under which are Netflix, Youtube, Spotify and also Chrome. This means that during training you can watch your favourtie series, read the news or get more motivation listening to a sports playlist. Even the training apps iRoute and Kinomap are pre-installed. Here you can ride on interactive outdoor routes on a worldwide tour.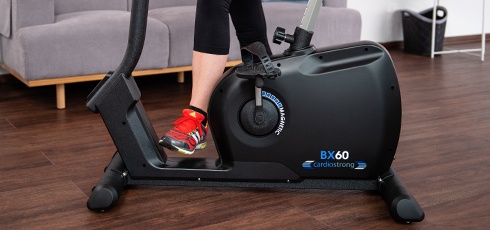 Deep entry
The frame of the BX60 Touch is not only built for stability, but also ergonomics. This begins with the deep entry, making it very safe and comfortable to step on without the need to swing a leg over the exercise bike. A welcomed feature for users with mobility restrictions.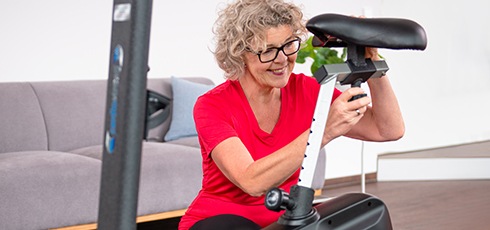 Comfortably padded saddle
The saddle of the cardiostrong BX60 Touch is well padded and extra wide. So that you can master your cardio training without having to compensate on training comfort. Even the saddle position can be adjusted to suit your body type. The optimal saddle position is then rounded off with the strapped pedals.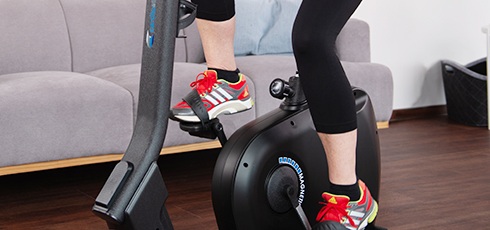 Train comfortably
The 9kg flywheel mass provides a smooth and joint-friendly run, which makes for an especially comfortable training experience on the cardiostrong Exercise Bike BX60. The stable construction combined with the high quality components produces optimal training ergonomics. The resistance can be adjusted from 10 to 350 Watts in 5 Watt increments. The brake system functions with an electronically adjustable magnetic brake.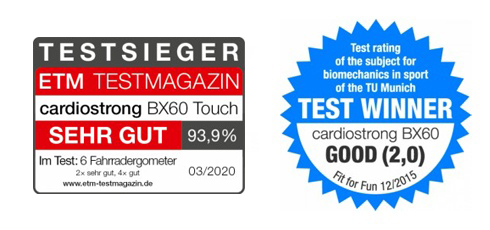 Test winner in the ETM Exercise Bike Test 03/2020
In issue 03/2020 the magazine ETM tested 6 exercise bikes with a value up to 1 000 Euro. The cardiostrong BX60 Touch came out as test winner. The reasoning of the jury being:
"This model has deservedly won first place in the test: In all test disciplines it set itself apart and didn't give any of our testers any room for criticism. Especially noteworthy apart from its handling is the large and easy to use touch screen, as well as the training ergonomics which is characterised by its smooth run in all cases, from light to hard resistance levels. Our testers also complimented the multimedia functionality of the model, which can be controlled through various apps providing more motivation during training. Therefore producing better results and reaching training goals."
---
Product details: cardiostrong Exercise Bike BX60 Touch
cardiostrong BX60 Touch | Exericse bike with touchscreen display | Apps: youtube, Netflix, Spotify, Kinomap, Chrome
Watch TV or ride on real routes at home: the touchscreen console of the BX60 makes it possible!
Easy operation thanks to the touchscreen console
Apps: Netflix, youtube, Spotify, Chrome, iRoute (ride with google maps), Kinomap (real world videos and multi-player events)
Wattage targets of between 30W and 400W, adjustable in 5-watt increments
Display with first class resolution
Automatic updates, switch between imperial and metric values
Deep entry and comfortably padded saddle
Comfortable exercise bike for cardio training and losing weight
Watt or pulse controlled training
Adjustable feet for leveling on uneven floors
69 total training programmes:

60 predefined programmes
4 heart rate programmes: 55 % | 75 % | 90 % of maximum heart rate or freely selectable target heart rate
3 manual target programmes: time | distance | calories (values count down until target is reached)
1 constant watt programme (resistance level is changed depending on cadence to maintain the selected resistance power)
1 quick-start programme (all values count up)
Kinomap (pre-installed) provides additional training options

Max. user weight: 136 kg
Dimensions set-up - cardiostrong Exercise Bike BX60 Touch: (L) 109 cm x (W) 55 cm x (H) 134 cm

Technical information:

Braking system: electronically adjustable magnetic brake
Output: 30 - 400 W (

adjustable in increments starting from

5 Watt)

RPM-independent resistance control

Flywheel weight

: 9 kg

Gear ratio

: 1:7

Length of the pedal arms

: 17 cm

Q-factor/pedal spacing

: 23.6 cm

Computer:

Display:

duration,

distance,

speed,

watts,

RPM,

calories,

heart rate

Display of exercise profiles via TFT
Exercise programs in total: 69, of which heart rate controlled: 4

Resistance levels

: 16

User memory

: 4

Features:

Heart rate measurement: hand pulse sensors + chest strap (sold separately)
Chest strap for telemetric heart rate measurement sold separately

Power supply: mains adaptor

Saddle adjustment

:

horizontal

,

vertical

Pedals with toe clips and straps

Extras: extra low access, transport wheels, exchangeable crank arms, drinking bottle holder
---
Description: cardiostrong Exercise Bike BX60 Touch
The cardiostrong Exercise Bike BX60 Touch
The cardiostrong Ergometer BX60 Touch has the best prerequisites for an effective training with its 7.1" touchscreen console. The console offers pre-installed entertainment and training programs, making it easier to complete your training! That, in combination with the stable construction and the comfortable, joint-friendly course of movement makes it the perfect home trainer. The joint-friendly cardio training will help you to improve your fitness and lose weight. The stylish design of the BX60 also makes it an eye-catcher in your home.
Entertainment including training results
The 7.1" touchscreen console of the cardiostrong BX60 Touch has 6 apps pre-installed: youtube, Netflix, Spotify, Chrome, iRoute and Kinomap. With youtube, Netflix or Spotify you can stay entertained while training. With Chrome you could, for example, read the latest news. Kinomap opens up many fantastic options. Users record real world routes and share them with other users of the app. Not only can you view a video of these routes but the route profile is also recorded. That means when the video goes up a hill, the resistance will automatically adjust with accordingly. For those who want to, participation in competitions is also possible. The iRoute training app enables you to ride on routes on Google maps.
Optimal course of motion
Along with the easy to use touchscreen console the cardiostrong BX60 also offers a very comfortable training experience. This begins with the low entry making stepping on and of the bike safe and easy. The saddle is extra wide and very well padded, making even longer cardio training sessions very comfortable. The seat position can be adjusted both horizontally and vertically, ensuring that all body types will have a good ergonomic posture. The 9kg flywheel mass provides a smooth and comfortable run. The resistance can be adjusted independantly from the RPM. The strapped pedals provide the necessary security during pedalling.
Test results
In the exercise bike comparison test in the test magazine ETM the BX60 received the grade "Very good" (Issue 03/2017). "The BX60 from cardiostrong reached 2nd place with 92.18%. This model is produced without flaws and is extremely stable; The control panel and screen are beautifully designed. Even the number of training programs and resistance levels are more than enough. The BX60 offers the best training experience in this group; among others, but mostly thanks to the (very) soft padded and extra large saddle." Exercise bike comparison test in the ETM test magazine issue no. 139, 03/2017
The Fit For Fun magazine awards the cardiostrong BX60 Touch as test winner 12/2015 "Test winner from the whole range: The Cardiostrong BX60 was the best in all categories; especially ahead of the rest in regards to operating comfort and course of motion."
Test winner in the ETM ergometer test in March 2020
In its March 2020 edition, ETM magazine extensively tested 6 ergometers costing under 1,000 euro. The cardiostrong BX60 emerged as the test leader. The judging panel commented:
"This model rightly achieved first place in our test: It could stand out in all test disciplines and left little to be desired by the testers. Of particular note are the handling, which is problem-free owing to the great touchscreen, and the training ergonomics, characterised by a perfectly even workout motion – and this is all due to the "light" and "heavy" resistance details. Finally, the testers also praised the model's interactive capabilities: It can be used to control different apps, which can significantly increase training motivation and thereby ensures workout success."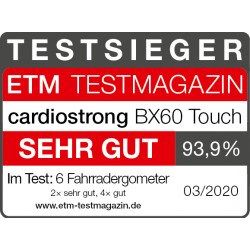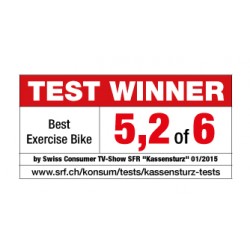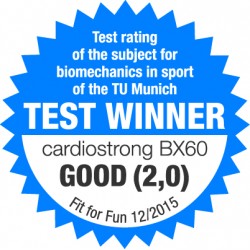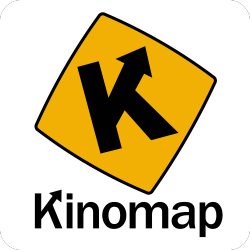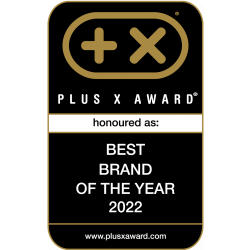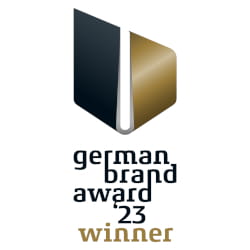 ---
Warranty conditions: cardiostrong Exercise Bike BX60 Touch
For further information on the warranty, please refer to the manufacturer's terms of warranty. The manufacturer's warranty is an extra service and does not affect your statutory rights.
| Manufacturer's warranty | Frame | Full warranty |
| --- | --- | --- |
| Home use | 30 years | 24 months |
---
cardiostrong Exercise Bike BX60 Touch Test & Evaluations
4.89 of 5 Stars
(45 Customer ratings)
Sport-Tiedje Expert Review
---
---
---
cardiostrong Exercise Bike BX60 Touch Accessories
---
Bestsellers of the last 30 days from the category Exercise Bike
---
Sport-Tiedje puts each fitness equipment through its paces. Then our team of sports scientists, serious athletes, and service technicians of many years of experience evaluate the products of different categories. Compare easily the products using the Sport-Tiedje expert review and find your appropriate equipment.