cardiostrong exercise bike BX70i
Sport-Tiedje Expert Review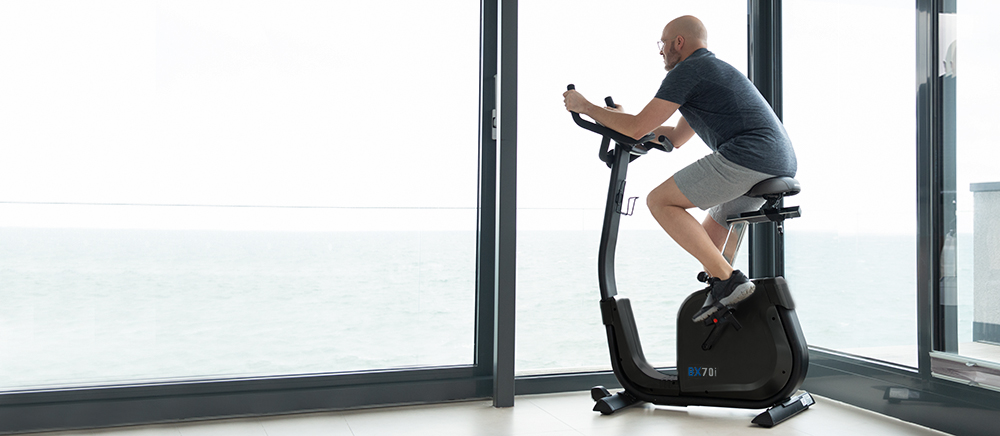 cardiostrong ergometer BX70i
Comfortable bike trainer for home and semi-professional use
High level of training comfort


Comfortable saddle, low step-through, simple operation

Exercise on routes worldwide


Compatible with Kinomap and iConsole+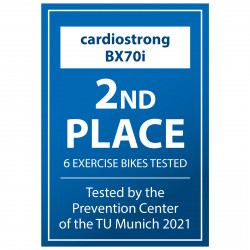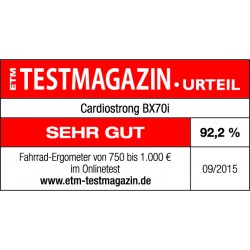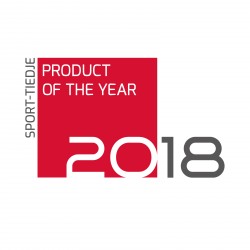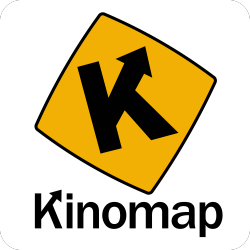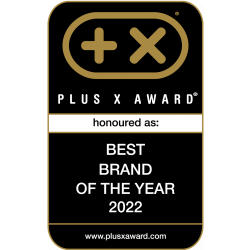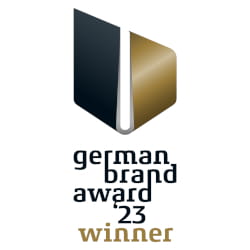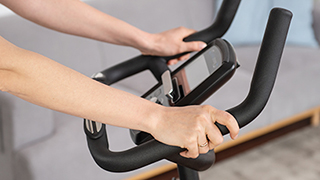 Flexible grip options
Are you more the relaxed or the sporty rider? On the BX70i, you get to be both: the handlebars offer different grip options for almost upright sitting or sporty sprinting posture. This allows you to choose/switch between different grip positions during bike training. This is more comfortable and prevents fatigue.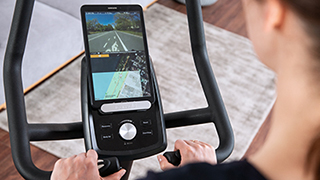 Realistic riding experience
Drive through the Swiss Alps or along the Côte d'Azur: the BX70i is compatible with
Kinomap
and iConsole+. These training apps give you access to numerous videos of bike routes around the world on your tablet or smartphone. Great feature: the apps automatically adjust the intensity of your workout to the course of the track.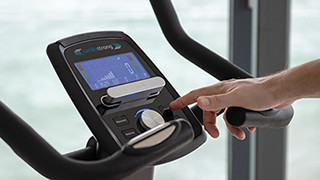 Simple training control
The training computer is particularly easy to use and made for the whole family. Thanks to a clear user interface, you can start your ergometer training right away. The silver jog wheel acts as the central control element, which you use to set all training values and select one of the programmes.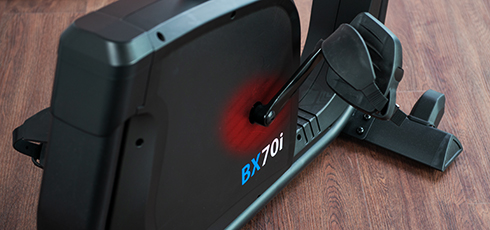 Excellent quality of movement
Inside the BX70i is a sophisticated induction brake. This maintenance-free braking system ensures a very smooth concentricity. In addition, the resistance can be set and precisely calculated in small increments of 5 watts. This allows you to accurately measure your performance and training progress.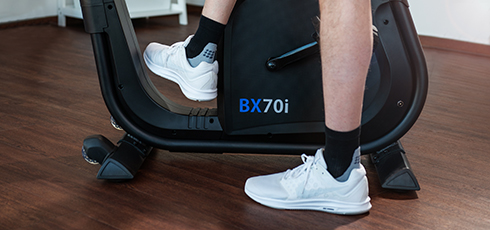 Deep step through
The slim frame of the BX70i not only looks chic, but also has another advantage: between the console mast and the seat, a panel has been deliberately omitted. This makes it very easy and safe to get on and off. The free passage provides additional safety, especially for people with limited mobility.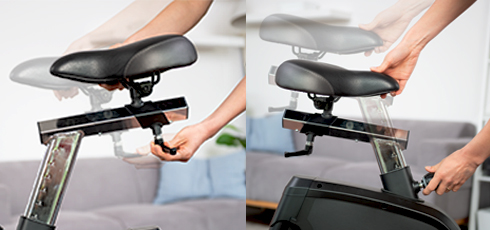 Comfortable saddle
With the large, soft padded saddle you have the best conditions for a comfortable bike workout. A comfortable saddle is a must, especially for long endurance units. In addition, it can be flexibly adjusted and precisely adapted to your body size. Would you rather train with your own bike saddle? No problem: the saddle on the BX70i is replaceable.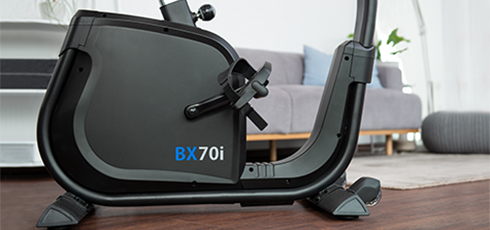 High degree of stability and load capacity
With a permissible user weight of 150 kg, the BX70i is cooperative when it comes to load capacity - a great ergometer for exercisers with a high body weight who want to burn calories. The frame is made of one piece. Thanks to its high stability, the BX70i is even approved for use in hotels, clubs or for corporate fitness.
---
Product details: cardiostrong exercise bike BX70i
Top ergometer with high level of stability, advanced resistance system and app compatibility
The cardiostrong BX70i was voted the second best device in the Ergometer Test (2021) of the Prevention Center of the Technical University of Munich. The entire ranking list and the results of the other tested categories can be found here.
Compatible with the Kinomap app, which now features videos of 200,000 km of routes
Exercise bike with excellent training values for regular cardio training at home
Advanced induction brake system for very smooth run and precise setting of the resistance
Compatible with the iConsole-App for better training control, analysis, and storing
For beginners looking for a joint-gentle, comfortable fitness machine – as well as for fitness enthusiasts with high demands on motion quality and stability; also suitable for semi-professional use
Precious design and high stability thanks to curved main frame in one piece
Many grip options for upright or sprint position
Design with deep step-through for easy getting on
Sitting position is quite easy to adjust
Very big, very comfortable saddle
Saddle can be changed to a standard bike saddle
Free-of-charge iConsole+ training app in the Apple app store and Google Play (Tablet/iPad sold separately)
The cardiostrong Vario crank allows variable positioning of the pedals on the crank arm. This allows the bending angle of the knee to be changed during training. The Vario crank supports rehabilitation after injuries by enabling adapted training that is easy on the joints. Even professionals who want to vary the training stimulus can optimize their training with the vario crank. This device is compatible with the cardiostrong Vario crank M.
Compatible apps (please note that some apps may incur additional costs for full functionality): iConsole+, Kinomap, ZWIFT, MyHomeFit, FulGaz
Max. user weight: 150 kg
Dimensions set-up - cardiostrong exercise bike BX70i: (L) 96 cm x (W) 56 cm x (H) 143 cm

Technical information:

Braking system: electromagnetic induction brake
Output: 10 - 350 W (

adjustable in increments starting from

5 Watt)

RPM-independent resistance control

Flywheel weight

: 10 kg

Gear ratio

: 1:8.1

Q-factor/pedal spacing

: 21.4 cm

Computer:

Display:

duration,

distance,

speed,

watts,

RPM,

calories,

heart rate

Display of exercise profiles via LCD
Exercise programs in total: 18, of which custom: 1, heart rate controlled: 4

Resistance levels

: 32

User memory

: 4

Features:

Heart rate measurement: hand pulse sensors + chest strap (sold separately)
Chest strap for telemetric heart rate measurement sold separately

Power supply: mains adaptor

Saddle adjustment

:

incline

,

horizontal

,

vertical

Removable saddle

Pedals with toe clips and straps

Extras: extra low access, transport wheels, drinking bottle holder
---
Description: cardiostrong exercise bike BX70i
cardiostrong exercise bike BX70i - braking system and drive
In our test series, the BX70i by cardiostrong was particularly captivating due to the interaction between the drive and braking systems. This ergometer is equipped with a high-quality induction braking system. This maintenance-free way of generating resistance is particularly precise, the adjustment of the resistance is faster and the calculation of the actual (watt) output is more accurate. The brake acts on a 10 kg flywheel mass. Due to the excellent workmanship, the cardiostrong exercise bike BX70i offers very good concentricity. This makes endurance training at home more pleasant and it is also more gentle on the joints by avoiding peak loads. Your power is transmitted to the flywheel mass via a drive belt made of plastic composite. This type of drive is wear-free and particularly quiet. For example, you can watch TV or talk while exercising at home.
cardiostrong exercise bike BX70i - training computer
The BX70i bicycle ergometer was impressive in the practical test with its particularly easy operation. The training computer of the bicycle ergometer has a so-called jog wheel, a rotary knob, as a central operating element. Thanks to this, all values can be quickly selected and confirmed. An overview of the 12 pre-installed programmes is shown on the display.
In addition to the classic programmes, such as interval or fartlek training with alternating loads, the load can also be controlled via other modes. Included herein, for example, is the heart rate programme: with this you can choose between 3 pre-programmed heart rate zones or enter your own target heart rate. In manual mode, the difficulty level can be selected completely freely. In Watt mode, the power to be applied always remains the same. That is, when you pedal faster, the resistance is lowered at the same time. In the practical test, the cardiostrong exercise bike BX70i exhibited a fast response at changing pedal speeds. The resistance power in Watt mode can be set between 10 and 350 watts.
cardiostrong exercise bike BX70i - comfort features
The cardiostrong exercise bike BX70i has many features that make endurance training at home a comfortable experience. This is clear from the moment you climb on. The low step-through makes this particularly easy and is also easy for people with limited mobility. The saddle is very large and softly padded - ideal if you also plan longer training sessions. The seat position can also be adjusted in height, horizontally and in inclination, and as a result is perfectly adapted to your body size.

The handle of the bicycle ergometer allows for multiple training positions depending on whether you prefer to train sitting upright or in the sprint position while supporting your arms. At the front of the handle there are also the hand pulse sensors for heart rate measurement.

A water bottle holder is attached to the ergometer's one-piece frame so that you always have the reserve tank handy during long training sessions. Transport wheels on the front stand ensure that the upright bike can be easily moved before and after training, for example, if you want to train in front of the TV.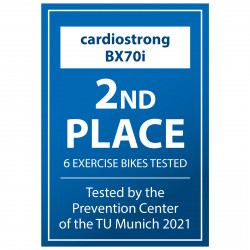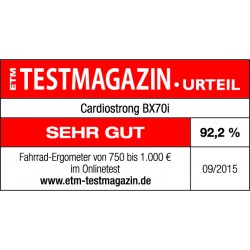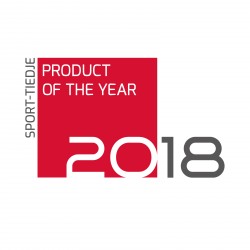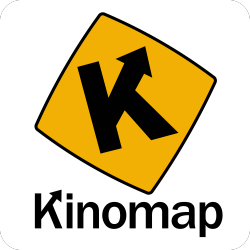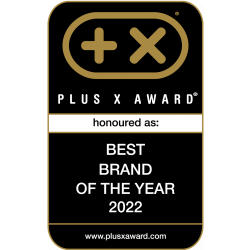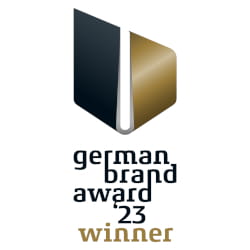 ---
Warranty conditions: cardiostrong exercise bike BX70i
For further information on the warranty, please refer to the manufacturer's terms of warranty. The manufacturer's warranty is an extra service and does not affect your statutory rights.
| Manufacturer's warranty | Full warranty |
| --- | --- |
| Home use | 24 months |
| Semiprofessional use | 12 months |
---
cardiostrong exercise bike BX70i Test & Evaluations
4.87 of 5 Stars
(70 Customer ratings)
Sport-Tiedje Expert Review
---
---
---
cardiostrong exercise bike BX70i Service & assembly videos
With our videos, we want to help you use your fitness equipment as quickly and as well as possible. In the assembly video, we guide you step by step through the assembly of your device. It's best to watch the video in its entirety and continue to use the printed instructions during assembly.
---
cardiostrong exercise bike BX70i Accessories
---
Bestsellers of the last 30 days from the category Exercise Bike
---
Sport-Tiedje puts each fitness equipment through its paces. Then our team of sports scientists, serious athletes, and service technicians of many years of experience evaluate the products of different categories. Compare easily the products using the Sport-Tiedje expert review and find your appropriate equipment.