cardiostrong Recumbent Exercise Bike BC60
Sport-Tiedje Expert Review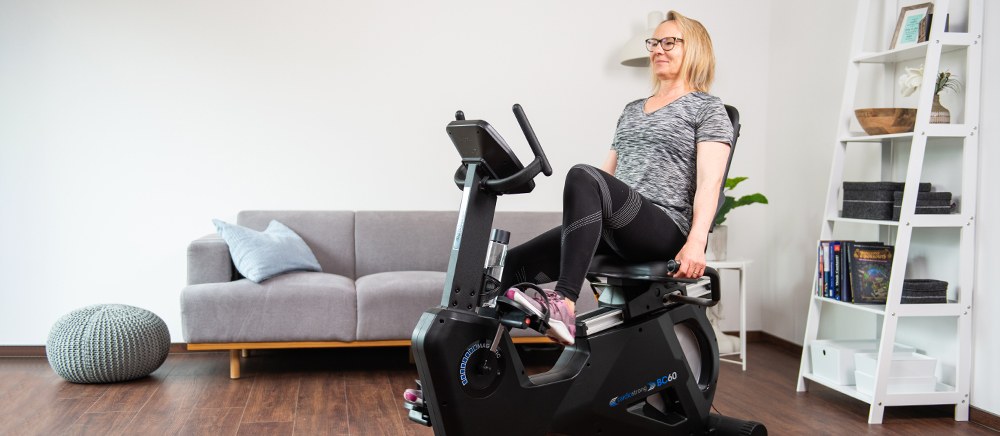 cardiostrong Recumbent Exercise Bike BC60
Back and joint-friendly fitness workouts
Smart sitting concept

Supportive backrest for more comfort

Precise exercise control

Watt control & heart rate programmes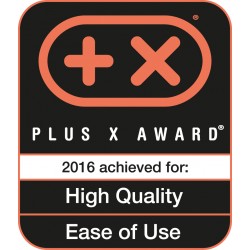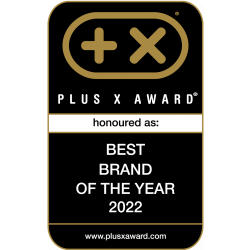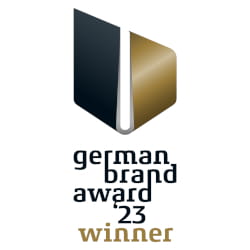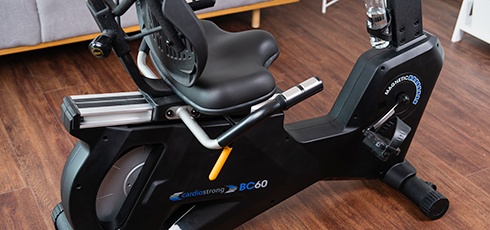 Space-efficient dimensions, great design – perfect for your home
The BC60 fits into any living environment, both visually and spatially. With a length of only 128 cm, it is one of the most space-efficient recumbent exercise bikes on the market. Transportation wheels enable it to be moved flexibly. The simple design of the BC60 makes it aesthetically appealing and a great home fitness device for the whole household.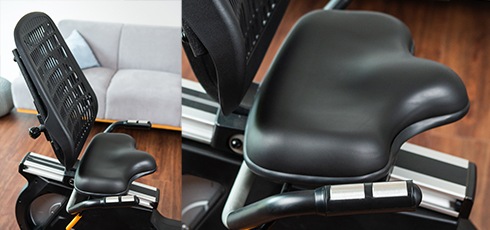 More comfort thanks to the backrest
You can sit back and relax during your workout on the BC60 while effectively improving your endurance. The high, air-permeable backrest supports the upper body and relieves the spine and intervertebral discs. The saddle and backrest are adjustable to ensure a comfortable and ergonomic sitting position on the BC60. You have your arms free to read a book or operate a tablet. But the BC60 is also ideal for people with back problems.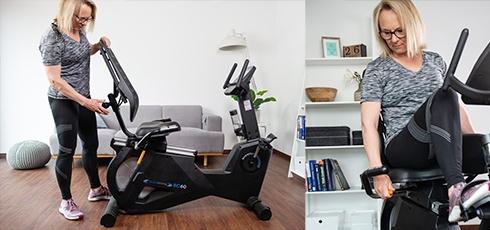 Flexible adjustment
The saddle and backrest are adjustable, ensuring you adopt a comfortable and ergonomic sitting position on the BC60. You can adjust the seat flexibly and comfortably from the sitting position, both in terms of distance to the pedals and console and in terms of inclination. In addition, the backrest is height-adjustable. This makes it possible for the whole family to work out on the BC60.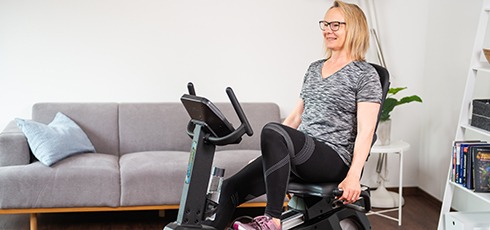 Smooth pedalling motion
A smooth, uninterrupted pedalling motion is more comfortable and protects the joints. The BC60's 9 kg flywheel mass, combined with the high-quality braking system, ensures good concentricity. The resistance remains constant throughout the entire movement. Finally, the magnetic brake is completely silent and maintenance-free!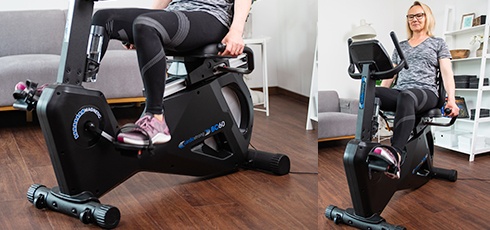 Wattage control – exercise without straining
As a recumbent exercise bike, the BC60 has the recommended wattage control for a low-impact workout. Regardless of how fast you pedal, the ergometer accurately maintains your set wattage. This protects you from overstraining, enabling you to exercise in a range that is ideal for you, or to continue therapeutic treatment at home.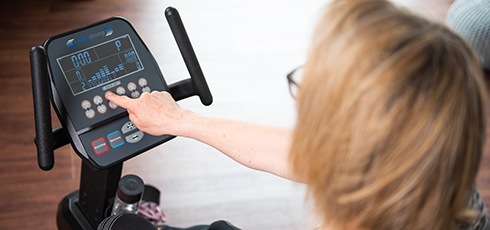 User-friendly operating concept
The easy-to-use console offers 12 training programmes for a varied fitness workout. You can start your favourite programme at the touch of a button thanks to the quick selection keys. You can also take advantage of the four heart rate programmes, allowing you to effectively work towards your training goal, i.e. losing weight, while staying in the optimal heart rate range.
---
Product details: cardiostrong Recumbent Exercise Bike BC60
Fits any home, both visually and spatially
Good seat adjustment offers high training comfort
Very nice, slim console with easy operation
Backrest is height-adjustable
Incl. drinking bottle holder (not mounted on all photos)
Max. user weight: 120 kg
Dimensions set-up - cardiostrong Recumbent Exercise Bike BC60: (L) 128 cm x (W) 67 cm x (H) 121 cm

Technical information:

Braking system: electronically adjustable magnetic brake
Output: 30 - 330 W (

adjustable in increments starting from

5 Watt)

RPM-independent resistance control

Flywheel weight

: 9 kg

Length of the pedal arms

: 17 cm

Computer:

Display:

duration,

distance,

speed,

watts,

RPM,

calories,

heart rate

Display of exercise profiles via LCD (extra large)
Exercise programs in total: 19, of which custom: 1, heart rate controlled: 4

Resistance levels

: 16

User memory

: 4

Features:

Heart rate measurement: hand pulse sensors + chest strap (sold separately)
Chest strap for telemetric heart rate measurement sold separately

Power supply: mains adaptor

Saddle adjustment

:

horizontal

,

Pedals with toe clips and straps

Extras: transport wheels, exchangeable crank arms, drinking bottle holder
---
Description: cardiostrong Recumbent Exercise Bike BC60
cardiostrong Recumbent Exercise Bike BC60: Comfortable and back-friendly due to the smart sitting concept
As a recumbent exercise bike, the BC60 offers many advantages for working out at home. The backrest not only makes exercise more comfortable – you can read while working out – it also provides extra support for your back. This back-friendly position relieves the spine and intervertebral discs. Therefore, exercising on the BC60 is also suitable for people with back problems or a slipped disc. The backrest of the BC60 is particularly high. In addition to the conventional adjustment options of a recumbent exercise bike, the BC60's backrest is also adjustable in height.
Good to know: Even though you work out with a comfortable backrest, the exercise is still as intensive as an upright bike. There is hardly any difference in the amount of calories burnt between recumbent exercise bikes and exercise bikes.
Recumbent Exercise Bike with watt control
The watt control option also makes the BC60 suitable for low-impact exercise after surgery or a longer break from working out. On the recumbent exercise bike, the wattage specified by a doctor or physiotherapist can be set prior to exercising. The ergometer ensures that this value is precisely maintained by continuously adjusting the resistance to your pedalling speed: the faster you pedal, the lower the resistance and vice versa. In this way, the level of resistance exerted on the cardiovascular system and muscles is maintained at the same intensity. This means that rehabilitation exercising can be continued comfortably and safely at home.
A first-class design and a classy, easy-to-use console
The design of the cardiostrong recumbent bike focuses equally on functionality and looks. Hence, a very space-efficient piece of fitness equipment with a slim body and modern colour scheme has been developed, that looks good in any living environment.
The slim console fits perfectly with the elegant look of the recumbent exercise bike. The operating concept is very straightforward. Quick keys allow you to choose one of 12 pre-defined training programs with alternating resistance and recovery phases. Furthermore, heart rate programmes, a user-defined programme and a fitness test can also be selected.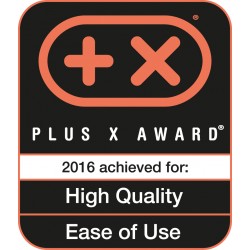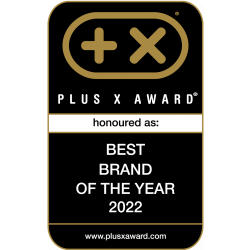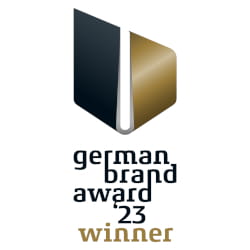 ---
Warranty conditions: cardiostrong Recumbent Exercise Bike BC60
For further information on the warranty, please refer to the manufacturer's terms of warranty. The manufacturer's warranty is an extra service and does not affect your statutory rights.
| Manufacturer's warranty | Full warranty |
| --- | --- |
| Home use | 24 months |
---
cardiostrong Recumbent Exercise Bike BC60 Test & Evaluations
5 of 5 Stars
(9 Customer ratings)
Sport-Tiedje Expert Review
---
---
---
cardiostrong Recumbent Exercise Bike BC60 Service & assembly videos
With our videos, we want to help you use your fitness equipment as quickly and as well as possible. In the assembly video, we guide you step by step through the assembly of your device. It's best to watch the video in its entirety and continue to use the printed instructions during assembly.
---
cardiostrong Recumbent Exercise Bike BC60 Accessories
Out of stock
Back in stock approximately CW 09
(26/02/24 - 01/03/24)

Out of stock
Back in stock CW 50
(11/12/23 - 15/12/23)

from £208.00

from £181.00
---
Bestsellers of the last 30 days from the category Recumbent Bike
---
Sport-Tiedje puts each fitness equipment through its paces. Then our team of sports scientists, serious athletes, and service technicians of many years of experience evaluate the products of different categories. Compare easily the products using the Sport-Tiedje expert review and find your appropriate equipment.