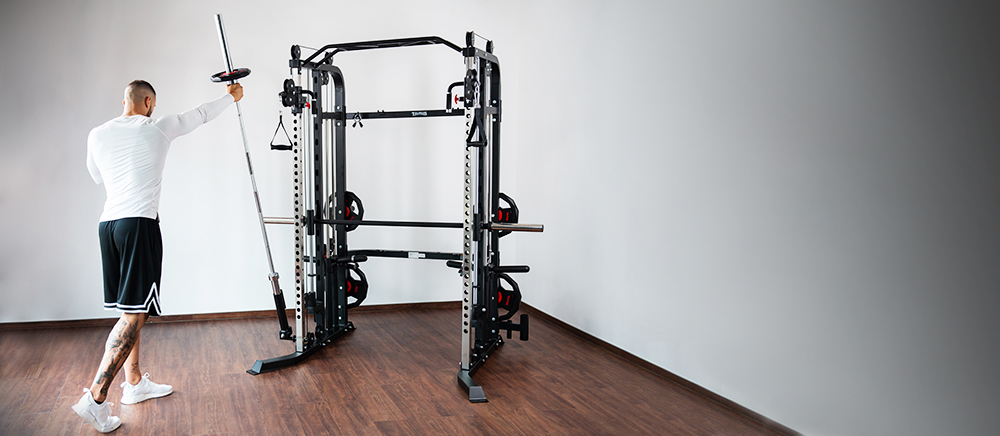 Taurus Multi Smith
Extensive multi-station

Smith machine, adjustable cables and many other features

Maximum safety

Guided barbell with sophisticated safety system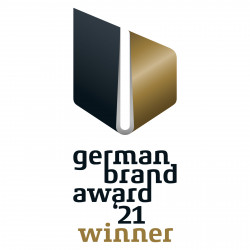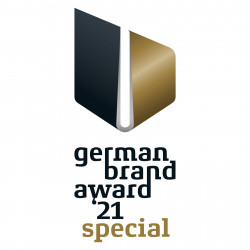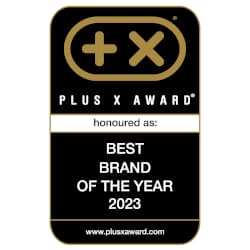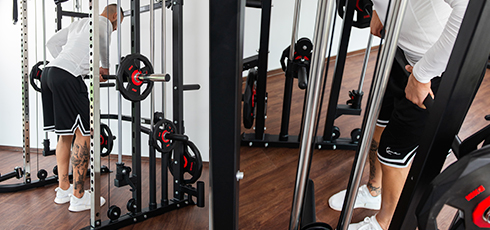 The centerpiece: the guided barbell
The heart of the Multistation is a 14-grade height-adjustable Smith machine. The barbell can be hooked in quickly and safely, making it ideal for starting strength training. At the same time, it enables you to exercise at your performance limit. The guided bar supports you in the clean execution of your exercises and allows targeted loading of individual muscle groups.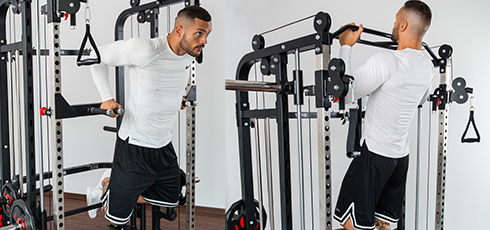 6 Stations – 7 Attachments
Around the Smith machine there are 5 further training stations. The double cable pull is the perfect addition to guided barbell training. Train with your own weight on the dip station, leg roll or pull-up station. Use individually placeable safety racks for your free weight training or strengthen your shoulder muscles when training on the land mine or the core trainer.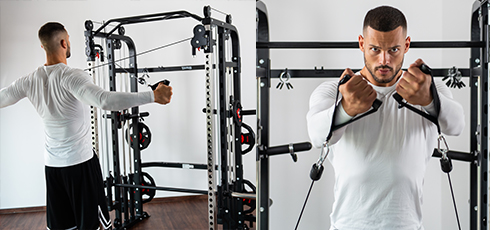 Double cable pull
Undoubtedly one of the most outstanding features: Height-adjustable in 22 steps and almost 2 meters long at maximum extension, the cable pull offers you maximum freedom of movement and a wide range of possible uses. High-quality pulleys and nylon-coated steel cables guarantee even pulling motion with constant resistance. The cable pull is equipped with 50 mm weight plates and can therefore be precisely adjusted.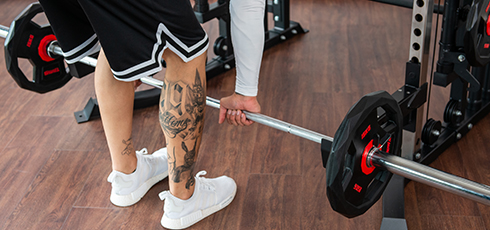 Greatest possible security
With the Taurus Multi Smith, you train safely and independently A valuable safety factor when training without a training partner: the double safety mechanism of the Smith machine. The rack also provides optimal protection during free weight training. Height-adjustable safety rests - bar catchers and J-hooks - can be placed individually. All Multi Smith attachments are equipped with additional safety pegs.
---
Product details: Taurus Multi Smith
One device - thousands of possibilities: the Taurus Smith Machine for maximum performance in home workouts!
Guided and free dumbbell training at one station!
Barbell bar of the Smith Station is 14-way height-adjustable
Station 1 – Smith Machine: a guided barbell with safety hook, for beginners and professionals who like to charge a little more: the perfect station for squats and bench presses
Station 2 – Cable pulls : two multiple height-adjustable cable pulls that can be equipped with 50mm weight plates individually
Station 3 – Chin-up bar : many different grip widths and grip options: upper or lower handle as well as parallel grip
Station 4 – Dip station: Height-adjustable dip station with two handle widths for dips or legs | ​Knee raise
Station 5 – free barbell training : Height-adjustable safety rests | Bar catcher and security shake | J-hooks also allow training with a barbell (at least 2m)
Station 6 – Core Trainer or Landmine: the movable mount for 50 mm dumbbell bars allows, e.g. T-bar rows or one-armed shoulder presses
Enough of this chaos! 4 storage bars for 50mm discs and a vertical storage option for a 50mm barbell
Padding roll included , which can be placed on the bar catcher to support you with abdominal exercises and many others
Bar catchers, J-hooks, and dip stations can be freely adjusted in height and can be removed when unused
Particularly safe : Not only thanks to the Smith Station with two safety mechanisms, but also because each height-adjustable attachment is secured at the rear with an additional safety pin.
Our accessory recommendations:

Weight bench for bench presses and shoulder exercises
Triceps jam and other pulling aids to connect to the cable pull
Sling trainer
Weight plates with 50mm borehole

Included in delivery: 2 loop handles, dip attachment, bar catcher, J-hooks, spring clips, padding roll
Transmission ratio of the cable pulley: 2 to 1 | 1 to 1 when linking the cable pulleys
Cable length / maximum extension range of the cable pulls: 180 cm
Maximum load capacity of the individual stations:

Dip Station: 200 kg
Pull-up bar: 180 kg
Cable pull: 200 kg each side
Smith barbell: 200 kg

Dimensions set-up - Taurus Multi Smith: (L) 160 cm x (W) 200 cm x (H) 221 cm

---
Description: Taurus Multi Smith
Set yourself new goals
The Taurus Multi Smith helps you get off to a good start with home training. Effective and individually tailored training plans need one thing above all: opportunity. Therefore, with the Multi Smith, great value was placed on 3 factors: the greatest possible exercise variety, adaptability and expandability. Strengthen your stabilization muscles or focus on specific isolation exercises. With the Multi Smith you get all the advantages of free weight training and at the same time benefit from the flexible cable pull. You can achieve an even greater variety of exercises with additional accessories such as alternative cable pull handles, straps or a weight bench.
Space-saving all-rounder
Together with the Bodyweight Stations a total of 6 Stations are spread over just 3.20 m². This not only saves space but also creates order in the home gym. Practical features come into their own here in particular: two brackets for 50 mm barbells and four bearing bars for 50 mm weight plates are available to you. The advantages of the weight system: weight plates can be used for the cable pull as well as for the Smith machine and 50 mm barbells. In addition, you can adjust the cable pull resistance extremely precisely by equipping it with weight plates. Attachments such as the dip station can be attached to the rear frame when not in use.
Stable and safe for success
The robust frame with a wall thickness of 2 mm ensures extreme stability and resilience. The Multi Smith also relies on the highest quality when it comes to the Cable pull: The excellent pulling motion gives you a clear advantage towards performing your exercises properly. For sweaty workouts, we also recommend a floor protection mat, which not only protects the floor from sweat, but also from scratches. The protective mat effectively dampens training noises, especially during free weight training.

The Taurus Multi Smith is designed for beginners in free weight training as well as passionate strength athletes. Reliable safety systems are of particular importance for both beginner training and training with heavy weights. For this reason, the Smith-Machine not only has a smooth-running hooking mechanism, but also an additional receiver system. Safety pegs ensure that the attachments are held securely.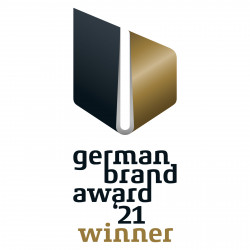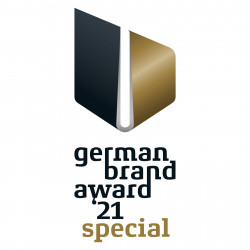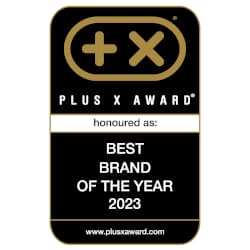 ---
Warranty conditions: Taurus Multi Smith
For further information on the warranty, please refer to the manufacturer's terms of warranty. The manufacturer's warranty is an extra service and does not affect your statutory rights.
| Manufacturer's warranty | Full warranty |
| --- | --- |
| Home use | 24 months |
| Semiprofessional use | 12 months |
---
Taurus Multi Smith Test & Evaluations
5 of 5 Stars
(4 Customer ratings)
---
---
---
Taurus Multi Smith Accessories
---
Sport-Tiedje puts each fitness equipment through its paces. Then our team of sports scientists, serious athletes, and service technicians of many years of experience evaluate the products of different categories. Compare easily the products using the Sport-Tiedje expert review and find your appropriate equipment.