Taurus X9.9 Cross Trainer
Sport-Tiedje Expert Review
Delivery by freight carrier
Product details: Taurus X9.9 Cross Trainer
Very pleasant movement: short distance between the pedals, long stride, flat ellipse
Easy-to-use dial, resistance adjustment on the handles
Very high quality of movement: induction braking, high-quality flywheel, belt drive
Well equipped: heart rate measurement by hand pulse or chest strap, tablet holder, drinking bottle holder, castors
Exceptionally stable construction: approved for the semi-professional sector, user weight 180 kg max.
Ergonomic: very pleasant concentricity, multiple handles
Resistance power in watts:

Speed-independent / watt programme: 10–350 watts
Speed-dependent at 60 RPM: 50–400 watts

High-quality console: useful programmes, clear layout, Bluetooth® interface when using selected apps
Max. user-weight: 180 kg
Dimensions set-up - Taurus X9.9 Cross Trainer: (L) 232 cm x (W) 95 cm x (H) 172 cm

Technical information:

Braking system: electromagnetic induction brake
Output: 10 - 350 W (

Adjustable in increments starting from

5 Watt)

RPM-independent resistance control

Balance mass according to the standard of Tiedje: 10 kg

---

When you compare the products, please mind that some manufacturers define differently the balance mass of their crosstrainers. Therefore, the indications can vary among each other. Besides the weights of flywheel, pulley, and caryying wheel respectively cross and blank discs (levelling discs), the indications of balance mass of some manufacturers consider additionally the weights of pedal arms, handle bars, and other parts. This is dubious in our opinion. We define the balance mass as "total weight of flywheel, pulley, carrying wheel respectively cross and blanc discs", which form the rear balance unit.

Balance mass according to the manufacturer: 0 kg

Balance mass according to the standard of Tiedje: 10 kg, of it

Flywheel: 10 kg
Pulley: Not specified by the manufacturer
Carrying wheel: Not specified by the manufacturer
Cross joint and round blank: Not specified by the manufacturer

Aspects which are not included in valuation according to the standard of Tiedje:

Grip bars (R+L): Not specified by the manufacturer
Pedal arm (R+L): Not specified by the manufacturer
Other parts: Not specified by the manufacturer

---

Gear ratio: 1:8.75
Stride length: 58.4 cm
Stride width: 5.4 cm
Ball-bearing mounted joints

Computer:

Resistance levels

: 32
Display:

duration,

distance,

speed,

watts,

RPM

,

calories,

heart rate

Exercise programmes in total: 25

, of which

custom: 1,

heart rate controlled: 4

Features:

heart rate measurement:

hand pulse sensors

+ chest strap (sold separately)

Chest strap for telemetric heart rate measurement sold separately

Power supply: mains adaptor

Extras: transport wheels, drinking bottle holder

An elliptical cross trainer with a joint-gentle, elliptical movement (Elliptical)
---
Description: Taurus X9.9 Cross Trainer
The name offers phenomenal quality of motion. The elliptical movement is flat and very long, making it reminiscent of cross-country skiing. In addition, the pedal space is pleasantly small and allows for very natural movement. The name is equipped with a quiet, low-maintenance, and extremely precise induction system.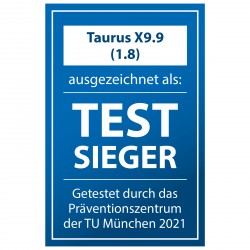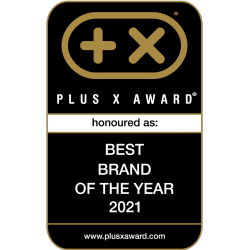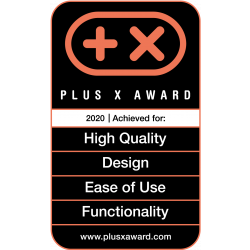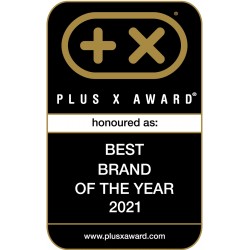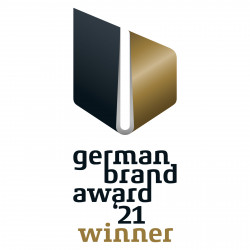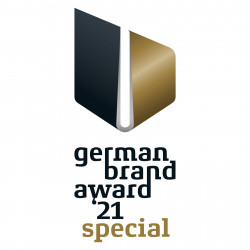 ---
Warranty conditions: Taurus X9.9 Cross Trainer
For further information on the warranty, please refer to the manufacturer's terms of warranty. The manufacturer's warranty is an extra service and does not affect your statutory rights.
| Manufacturer's warranty | Full warranty |
| --- | --- |
| Home use | 2 years |
| Semiprofessional use | 12 months |
---
Taurus X9.9 Cross Trainer Test & Evaluations
4.78 of 5 Stars
(58 Customer ratings)
Sport-Tiedje Expert Review
---
Write a product rating now and win a gift coupon of 500 € or the refund of the paid purchase price. The choice is yours!
---
---
Taurus X9.9 Cross Trainer Service & assembly videos
With our videos, we want to help you use your fitness equipment as quickly and as well as possible. In the assembly video, we guide you step by step through the assembly of your device. It's best to watch the video in its entirety and continue to use the printed instructions during assembly.
---
Taurus X9.9 Cross Trainer Accessories
Starting from £49.90

Starting from £44.90
---
Sport-Tiedje puts each fitness equipment through its paces. Then our team of sports scientists, serious athletes, and service technicians of many years of experience evaluate the products of different categories. Compare easily the products using the Sport-Tiedje expert review and find your appropriate equipment.